Sunday, 20 October 2019
August 2019: of trade wars & other negative effects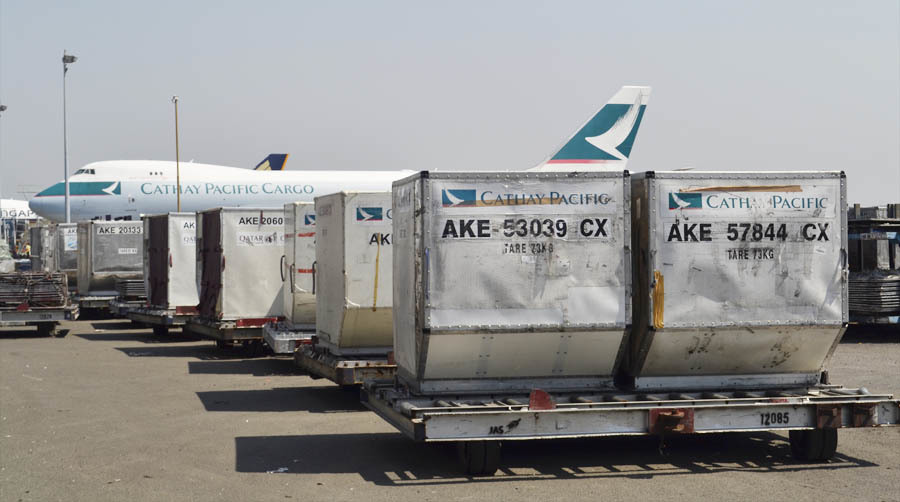 - Total Chargeable Weight: -7.1% year-over-year (YoY); -2.6% month-over-month (MoM).

- General cargo -10.3% YoY, Special cargo +0.7% YoY.
- Direct Ton Kilometers (DTK's): -6.8% YoY.
- Yield stood at USD 1.71 (-9.4% YoY, -2.1% MoM).  The yield in EUR stood at 1.54.
- The cargo load factor dropped by 4 percentage-points YoY, and by 0.4 MoM.
- High-Tech & Other Vulnerable Goods increased by 4.4% YoY, whilst Pharma & Temperature Controlled Goods rose by 5.2% YoY. Perishables in total grew 1.3% YoY: fish & seafood did best (+5.4% YoY) and meat did worst (-8.0%).
If hopes went up after the month July, in which the air cargo performance was less bad than in the months before, August brought the industry back to earth: a YoY weight loss of 7.1% worldwide was accompanied by a yield decrease (in USD) of 9.4%. The resulting worldwide revenue drop (measured in USD) of almost 16% is not exactly the performance airlines were waiting for. The various regions of the world contributed in roughly the same measure to the decline; exceptions were Africa (volume +1.6% YoY) and – at the other end of the spectrum – the Middle East and South Asia (-10.4% YoY).
Looking at the year to date, i.e. the 8 months from the January through August 2019, worldwide air cargo volumes were down by almost 5% and yields (in USD) by 7.1% for general cargo, and by 3.8% for special cargo categories (flowers were the only category with a slight yield improvement of 1%). In terms of overall revenues, the origins Europe and Asia Pacific have been hardest hit in the year so far, with decreases of 15.3% resp. 11.6% (in USD), or 9.9% resp. 6.1% (in EUR).
Asia Pacific is the main regional victim when looking at destinations, particularly in the markets within the area and on the flow USA to China & Hong Kong. But the origin China is doing well: to destinations outside the Asia Pacific region, exports even grew by 0.2%!
According to a number of recent news reports, China's neighbors are said to be profiting from the trade war between China and the USA. As for air cargo, it is not easy to either corroborate or refute such statements. After all, any country-to-country figures are in themselves the resultant of different influences. When looking at the world's trade-by-air flows, how can one distinguish between direct trade war effects, other geopolitical developments and the consequences of a more general wait-and-see attitude? All we can say is that China's neighbors show an interesting mix of results. Let's take a look.
We compared the most recent three-months' period (June-August 2019) with the same period in 2018. In air cargo exports to the USA, China lost 18% of its revenues (in USD), whilst the other origins in Asia Pacific combined lost 16%. Among the major Asia Pacific countries, Japan and Hong Kong and South Korea each lost around 25%, but Vietnam and Taiwan gained 4% and 15% respectively. In the other direction, i.e. from the USA to Asia Pacific, we noted the following: China -18.5%, Hong Kong -20%, South Korea -24%, Japan -7%,Taiwan -10.5%, but Vietnam +9.5%.
In other words, whatever the reasons, Vietnam is clearly improving its position in air cargo flows to and from the USA, and to a somewhat lesser extent, so is Taiwan. But the countries in North-East Asia do not make the impression that they benefit from the trade war. And the airlines? When looking strictly at the USD-revenues made from air cargo flows between China and the USA, North American carriers suffered more than Asian carriers (-26% vs -17%), but carriers originating outside the USA or Asia lost 'only' 12%.