Thursday, 8 July 2021
EVA in Digital Pilot with AOKpass for COVID-19 Test Results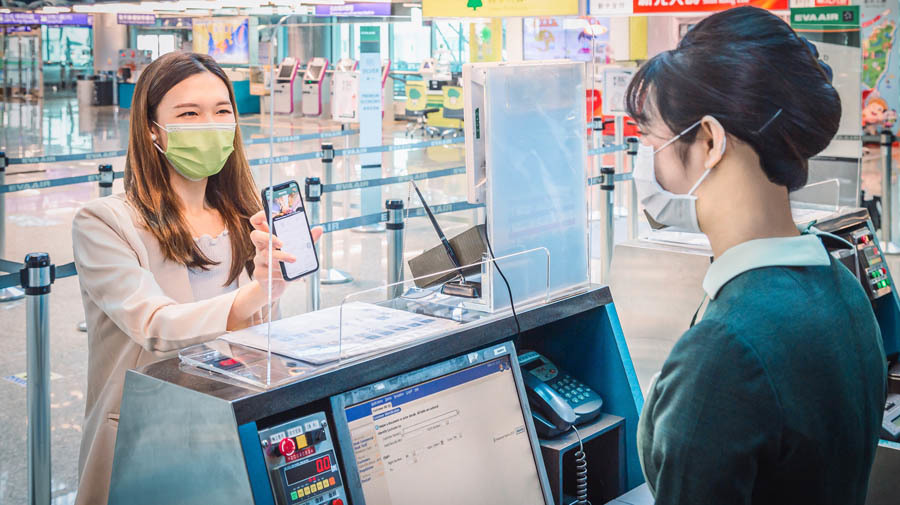 EVA Air is launching a "Passenger Health Declaration" online platform at www.evaair.com or on the EVA mobile app and a pilot program with digital-solution-provider AOKpass and its medical partner, MedAire. With AOKpass, EVA will use a mobile device app to verify passengers' health credentials for travel on two routes, Taipei-Los Angeles and Taipei-San Francisco. The app will streamline airport COVID-19 prevention measures and reduce unnecessary person-to-person contacts for passengers.
Passengers can use the "Passenger Health Declaration" online platform from 48 hours to 1 hour before scheduled departure, utilizing the "Manage Your Trip" feature at EVA Air or on the EVA mobile app. The feature is designed to save time at airport check-in and minimize passenger contacts.
The AOKpass digital verification platform was co-created by International SOS with its subsidiary medical company MedAire, the International Chamber of Commerce (ICC), and global testing, inspection, and certification company SGS in a combined effort to develop a reliable and widely accepted tool for digitally verifying passengers' Polymerase Chain Reaction (PCR) test results and vaccination status. Now, AOKpass is teaming up with EVA on the same kind of pilot program for San Francisco, Los Angeles, and Taipei airports.
"Passengers can download the AOKpass from the iPhone App Store or Google Play to their mobile devices before they go to the airport," said EVA Air Spokesperson David Chen. "As soon as the app is installed, a passenger can use it to make a PCR test appointment or go to EVA's COVID-19 Information Center. After the PCR test is done at the hospital, the passenger will get a QR code to save on their mobile devices. Then, the passenger can show the QR code to EVA airport staff who can scan it and quickly determine the authenticity of test results. Both Taiwan and the U.S. require passengers to also have paper copies of PCR test results for additional verification airport authorities may need."
As more vaccinations are provided around the globe, countries are opening their borders to passengers who can provide required health information. COVID-19 vaccination credentials and PCR test results are becoming travel necessities while digital health verification platforms are the new tools of convenience. In March, EVA piloted a program with digital-solution-provider Affinidi in Singapore and Malaysia. Now, the airline is broadening access with AOKpass for Taipei flights to and from Los Angeles and San Francisco. EVA is also evaluating the best ways for connecting with global verification platforms to identify the safest, most efficient, and convenient travel tools as it prepares to serve the post-pandemic aviation market.
EVA upholds rigorous standards for COVID-19 prevention measures and continually enhances and improves the efforts it employs. In addition to continually elevating cabin cleanness, it provides personal hygiene kits. It also makes every effort to optimize ground operations by encouraging passengers to self check-in, re-engineering boarding sequences, and implementing biometrics with a facial recognition boarding system. EVA will review more digital health verification platforms as they become available and examine those that best safeguard passengers' health and safety. Airline Ratings' recognition of EVA as one of the "World's Top Twenty COVID-19 Compliant Airlines" with "Seven Star Certification for COVID-19 Epidemic Prevention," as well as a SafeTravels stamp certified by the World Travel & Tourism Council (WTTC) identify EVA as a member of the international safe travel reception service chain.