Friday, 9 July 2021
Garuda Indonesia Receives The Highest Five Star Covid-19 Airline Safety Rating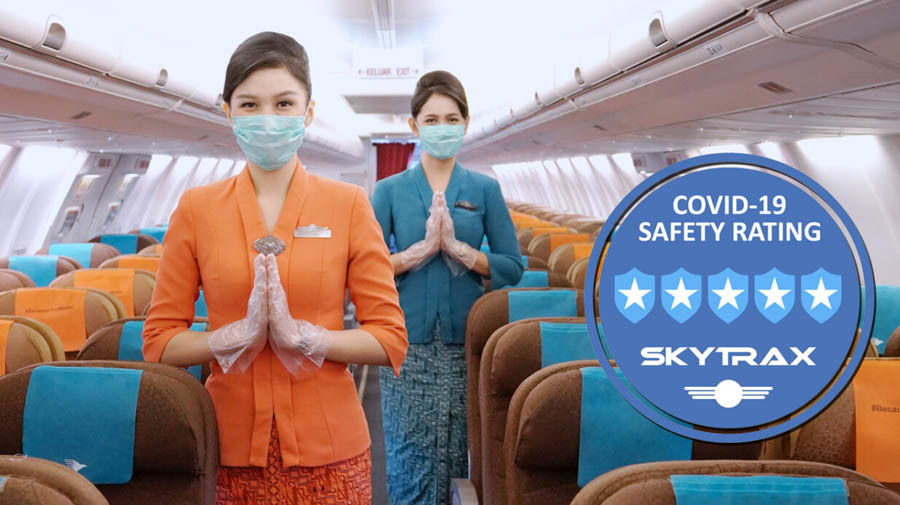 Flag carrier, Garuda Indonesia has been Certified with the highest level 5-Star COVID-19 Airline Safety Rating, becoming one of just eight airlines in the world to currently achieve this top recognition.
The Skytrax COVID-19 Airline Safety assessment is now regarded as a worldwide benchmark for evaluating COVID-19 safe air travel.
The COVID-19 Safety Audit was completed in June 2021, and the assessment monitored all safety and hygiene protocols introduced by Garuda Indonesia in response to the COVID-19 pandemic. In addition, the evaluation reviews all customer facilities and frontline service protocols to determine if the systems are effective and consistent in reducing the risks associated with coronavirus.
"Becoming the first airline in Southeast Asia to successfully receive the 5 Star COVID-19 safety rating, was a testament of Garuda Indonesia's unwavering commitment to provide safe, comfort and convenient travel experience in these unforeseen circumstances. While we are resiliently trying to adapt to the challenges faced by our society and our industry at this very moment, this accolade gives us motivation and energy to continuously present our best effort toward providing unparalleled services by implementing comprehensive and consistent health and safety measures of COVID-19 in all of our operational touchpoint", said Irfan Setiaputra, President and CEO of Garuda Indonesia.
"We believe the essence of true comfort is our customer trust in the quality of flight safety and services. Hence, Garuda Indonesia will boundlessly uphold our long-standing commitment to understanding your needs for comfortable and reliable flight, because you matter," said Irfan.
Garuda Indonesia has collaborated with PT Angkasa Pura II (Persero) management team at Jakarta Soekarno–Hatta International Airport to deliver a safe travel experience at check-in, boarding, and arrival. Distancing measures have been applied at all points of potential passenger crowding, including check-in, bag-drop, and self-service kiosks. Customers are actively managed by airline and airport staff. All service counters have been fitted with protection screens, and hand sanitizer units have been added at queuing points and counters.
"Garuda Indonesia has applied a great deal of consideration into the safe, practical implementation of COVID-19 risk reduction, and have tried to minimize customer disruption both in the airport and onboard flights. Aside from many factors of additional information signage, extra hand hygiene units, and adapted service, the airline has also ensured that there is a caring Garuda hand to guide customers at each stage of the experience", said Edward Plaisted of Skytrax.
The audit includes all factors of the airport and onboard sanitization checks, cleaning and disinfection procedures, the standard and usage conformity of staff PPE, COVID-19 signage and information, social distancing control, hand sanitizer facilities, PA guidance, organization of passenger flows, monitoring customer face mask usage and other adapted service systems.
Signage and information standards draw on the concept of "Because You Matter", and Garuda applies this guidance throughout the airport journey from kerbside to aircraft.
All Garuda lounges have revised cleaning procedures in place, and customers should notice additional sanitization of high-contact items such as seating and tables and extra measures in the washrooms and showers. Furthermore, hot foods are prepared by staff to reduce contact in the buffet areas, and all cold foods are fully sealed at self-service points.
Boarding and deplaning processes are carefully managed to ensure that guests have increased space and baggage reclaim areas have complete distancing measures in place, in addition to UV sanitization systems for checked-in luggage.
Onboard each flight, customers will notice that cabins are thoroughly disinfected after each flight and enhanced frequencies for inflight lavatory cleaning. Additionally, hygiene kits with masks, hand sanitizer, and surface wipes are available on appropriate routes, and cabin crew conducts their duties with full PPE during frontline service.