Saturday, 20 March 2021
J&T Express's New Breakthrough, Launching Special Cargo Aircraft to Ensure Schedule of Shipments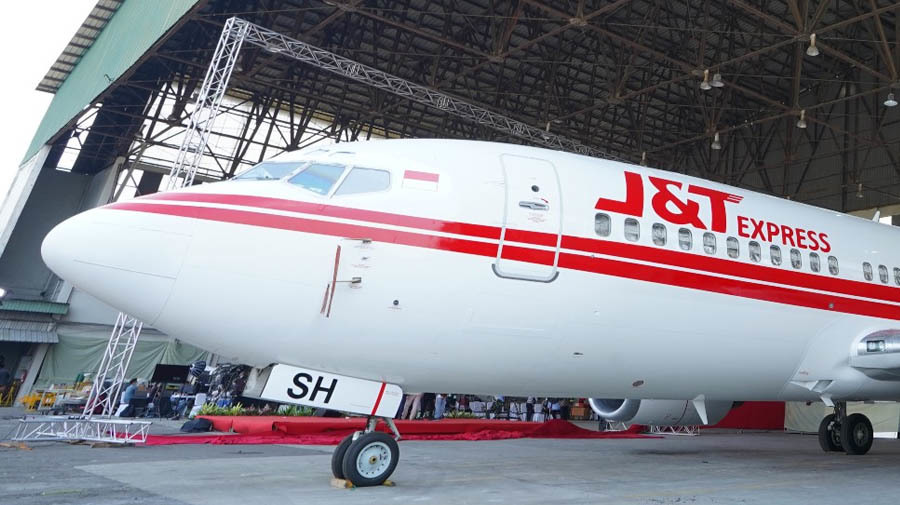 J&T Express, a delivery service that puts technology in its services, continues to innovate in infrastructure that supports and sustains its business. Entering its 6th year in 2021, J&T Express officially launched a freighter (cargo aircraft) at Budiarto Airport, Curug, Tangerang, which is assisted by an experienced cargo operator Trigana Air to maximize the efficiency of increasing package delivery, specially out of Java Island. It is hoped that with this innovation, J&T Express will increase the service level agreement (SLA) to customers.
The launching ceremony was inaugurated directly by Robin Lo - CEO of J&T Express, Mike - Director of Operations of J&T Express, Erick - Director of J&T Express Business Development, Colonel (Air Force) Kotot Sutopo Adji, M, Si (HAN) - II Head of Division of the Indonesian Air Force Cooperative (INKOPAU), Capten Otto Sigit - Commissioner of PT. Pukadara Prana Perkasa, and, Rudi Hartono - Technical Director of Trigana Air.
Currently Jakarta-Medan and Jakarta-Batam are the flight routes with the highest delivery traffic for cities outside Java. Therefore, in the future the J&T Express freighter will serve package delivery on the route Jakarta (CGK)-Medan (KNO), and Jakarta (CGK)-Batam (BTH)-Tanjung Pinang (TNJ).
Previously, J&T Express had indeed collaborated with various national airlines for the delivery process. Simply since the Covid-19 has effected experience delays, so with this freighter it is hoped that delivery will no longer experience a delays. This freighter will carry 80% to 100% or up to 15 tons of the total freight load per flight with at least two flights per day.
"With the current pandemic situation, uncertain flight schedule is still happening. Many of them were canceled or postponed due to the lack of passengers, and other factors that may result the delay in air shipments as well as delays in sending SLAs. After we have maximized the ground route for shipping distribution in Java, today J&T Express launches a freighter to increase the efficiency of shipping by air in line with the increase in the number of packages, mainly in areas outside Java," said Robin Lo.
"We welcome J&T Express's breakthrough as a delivery service that seeks to accommodate air shipments to make them more efficient without being constrained by uncertain delivery schedules. In this regard, we also hope to help each other and jointly respond to business challenges during this pandemic, "said Rudi Hartono, Technical Director of Trigana Air.
With this freighter, J&T Express is expected to accommodate customer needs for larger and heavier packages/goods. Because the delivery of goods with these two dimensions cannot be accepted on regular flights, especially on these two routes (JKT-KNO & JKT-BTH). In addition, J&T Express can also be flexible arranging flight schedules which is adjustable for their needs accordingly.
"With this freighter, J&T also has changed its business plan in 2021 by targeting a growth of around 50%-70%. As for the volume of shipments, J&T is targeting 3 to 5 million packages per day," Robin Lo concluded.