Tuesday, 8 November 2022
Cosco Shipping Helps Launch the First International Air Transport Service with High-end Active Temperature Control Containers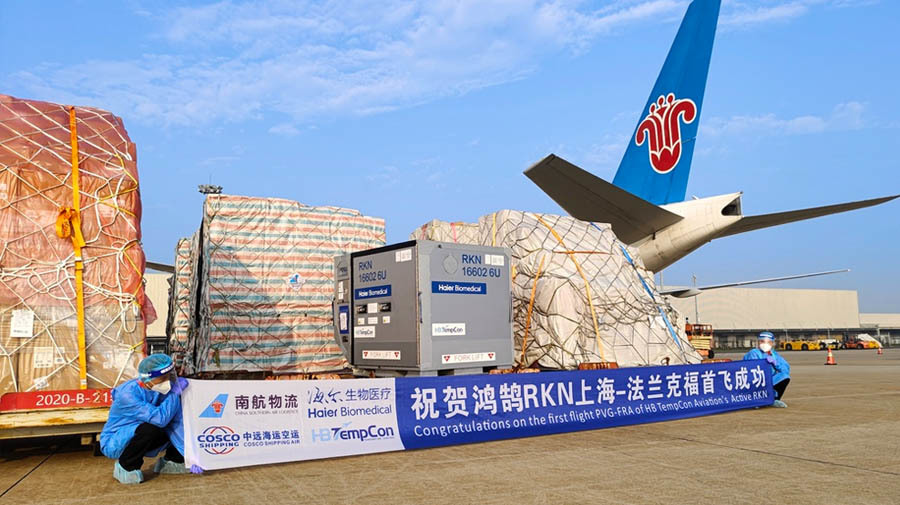 Recently, a China Southern Airlines cargo plane carrying Haier Biomedical's active temperature control aviation cargo containers (RKN) took off from Shanghai Pudong Airport (PVG) and headed for Frankfurt Airport (FRA), Germany. It marked the successful launch of the first international air transportation service supported by high-end temperature control equipment with the joint efforts of Cosco Shipping Air Freight Qingdao, China Southern Air Logistics, and Haier Biomedical. The service aims to help China's self-developed high-end aviation cold-chain logistics equipment to step into the international market.
Facing the increasingly strong consumer demand in the aviation cold-chain logistics market, Cosco Shipping Air Freight Qingdao adheres to the "customer-centered" service approach and actively coordinates with the upstream and downstream industry players, including domestic active RKN manufacturers, airlines and airport cargo stations, so as to provide customers with full-process temperature control logistics solutions.
After being entrusted with the mission of temperature-sensitive material export, Cosco Shipping Air Freight Qingdao, together with Haier Biomedical and China Southern Air Logistics, fully leveraged their resources and provided the customer with a tailor-made high-end temperature control transportation solution that adopted China's self-developed active RKNs for the first time. The project team worked efficiently together, from RKN customization, shipping space booking, transportation of goods to the airport, customs clearance to storage and containerization, which ensures that various links can be effectively connected for the success of this international air logistic transportation.
Active RKN is a high-end temperature control solution applied to the air transport of temperature-sensitive goods such as biopharmaceuticals, Active Pharmaceutical Ingredients and electronic components in air logistics transportation. Its temperature control performance is directly related to the cargo's quality and safety or efficacy. Therefore, it is regarded as an international "lifeline".