Thursday, 26 September 2019
RPX Celebrate Their 10th Year Partner with JAL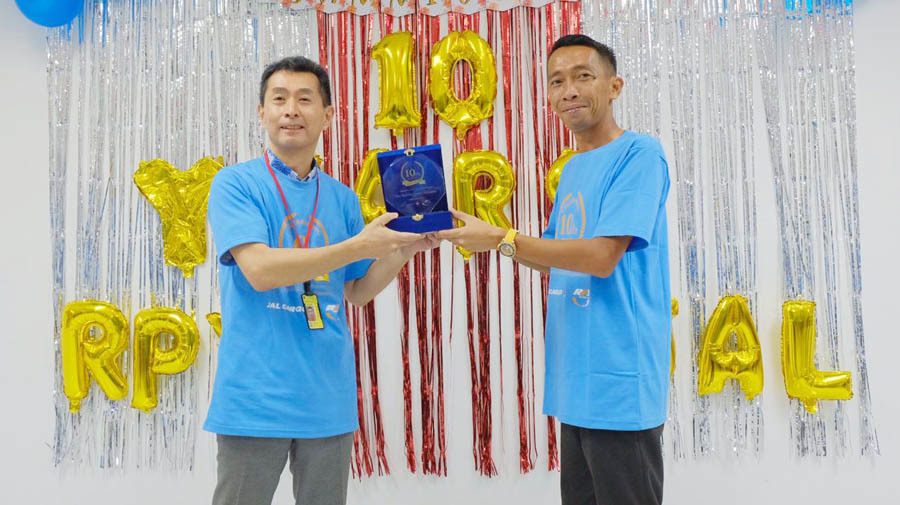 RPX, One Stop Logistics Pioneer, celebrated their 10th year partnership with Japan Airlines (JAL) and conduct a safety training as a Japan's culture, "Shisakosho" or point and call at RPX Transit Warehouse, Soekarno-Hatta International Airport, Tangerang, Banten, on Tuesday (September 3).
The 10 years celebration was an appreciation form from both sides over their successful partnership.
"Shisakosho" training was also conducted on the same day to all RPX's staffs assigned for JAL. Shisakosho itself is a tradition of Japanese's behavior to use their point finger to point/direct to one point, to see what they point and mention the thing.
This is done to make sure of security and to avoid mistakes (errors). Even though "Shisakosho" has been very well-known in Japan, still it's considered a new thing for cargo and post handling in Jakarta.
This training is as an effort that JAL and RPX do to reduce human errors in working and to gain employees' focus. All RPX's and JAL's staffs get their opportunity to the training trained by Hirayama, a JAL Cargo Staff who works at Haneda International Airport, Japan.
"Thank you to the Japan Airlines who has trusted RPX for 10 years. We will, of course, improve and upgrade our services. Through Shisakosho implementation, it helps RPX's team to reduce errors in the work," said Teddy Rianto, Transit Warehouse General Manager of RPX Group.
In line with that, the representative of JAL Head Office Noumi Takeshi, Assistant Manager of JAL Cargo Safety and Quality thanked RPX for their commitment to give good quality services for 10 years. He is also happy to apply Shisakoso in Jakarta.
"JAL is always challenged to do their best and expect to manage the partnership sustainably considering Jakarta is the main station for JAL," he added.
The partnership has been managed since 2009 and has been successful to yield some awards for RPX, one of them is "No Ramp Incident for Nine Consecutive Years" for the success of RPX to do ramp handling with the percentage of failures or accidents is 0% (Zero Accident).
In logistic business, RPX has made several innovations to ease and to give efficiencies in Logistics process. One of them is to give an integrated delivery service that may ease customers.
The concept of "One Stop Logistics offers" easiness for individual or people in the business sector through the 8 integrated services that include e-commerce, logistic warehouse, international express, freight forwarding, custom clearance, domestic express, warehouse transit, and trucking.  This solution gives efficiency from the time efficiency to cost efficiency as RPX has all the needed solutions.