Saturday, 28 August 2021
Working on Humanity Mission, Citilink Carried Medical Equipment from New York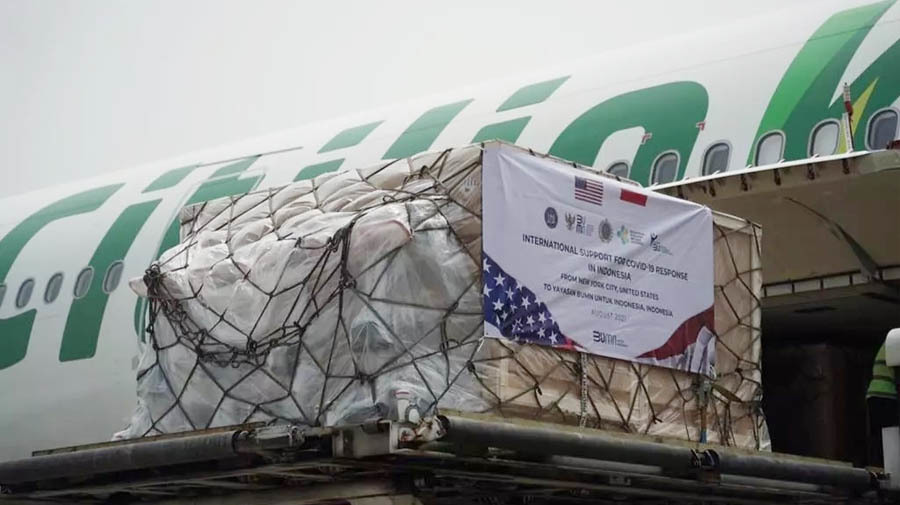 The Indonesian Republic accepted medical equipment aid from New York, USA, as a form of humanity global solidarity in handling COVID-19 through the State-owned Corporate Ministry.
Citilink was given a trust to conduct the mission of humanity by carrying the medical equipment aid of 176 ventilators and their appliances departed from Newark Liberty International Airport, USA.
The flight from Indonesia - USA is a synergy form between Citilink, the State-owned Corporate Ministry via State-owned Institution, the Indonesian Republic Ministry of Foreign Affair, and the New York City Government.
The arrival of Citilink was welcomed by the Indonesian Republic Minister of State-owned Corporate, Erick Thohir, and the USA Ambassador for Indonesia, Sung Yong Kim. There were also the Minister of Transportation, Budi Karya, the President Director of PT Angkasa Pura II, Muhammad Awaluddin, the the President Director of Garuda Indonesia, Irfan Setiaputra, the President Director of Citilink Indonesia, Juliandra Nurtjahjo, the Director General of Customs, and Head of Customs of Soekarno-Hatta Airport.
"On the day of the Indonesian Independence Day, Citilink organized a special flight carrying humanity mission to carry medical equipment aid from New York City Government to the Indonesian Government via the State-owned Corporate Agency. The flight mission is a commitment form of Citilink to contribute in accelerating the treatment of Covid-19 pandemic in Indonesia," said the President Director of Citilink Indonesia, Juliandra on Tuesday (17th August).
In the first stage, the medical equipment was brought from New York, USA as 176 units of ventilators and accessories. The needs of ventilators are very crucial, especially it's associated with the efforts to safe and cure all COVID-19 sufferers' who are in severe and critical condition.
Other medical equipment donation from New York is still in the process of delivery and is fully supported by Citilink, US Army, the United State Embassy in Indonesia and the Indonesia-American Chambers of Commerce.
The donation of ventilators was done by a chartered flight of Citilink using Airbus A330-900 NEO with the flight number QG 5991. The flight arrived at the International Airport of Soekarno-Hatta at 12.28 Western Indonesian Time
Juliandra hopes the donation of ventilators could give great benefits for the Indonesian people, especially to broaden people's accessibility to the supporting medical equipment for Covid-19 treatment.