Monday, 4 September 2023
Air India Eyes 300% Growth in Cargo Capacity in 5 years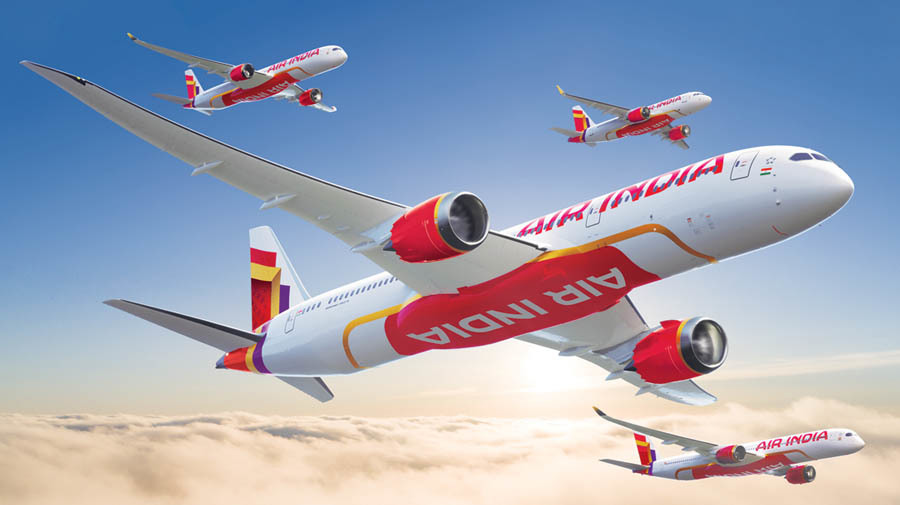 Air India, India's leading airline and a Star Alliance member, is gearing up to play a key role in boosting the freight and cargo ecosystem in India and globally. Initiatives taken in recent times will not only enhance the role of Air India as a major cargo carrier, but also bolster the country's cargo ecosystem and contribute to the development of an efficient air cargo supply chain accelerating exports from India.
The belly capacity of the Air India fleet will grow significantly over the next few years, with the addition of new wide-body aircraft to its fleet this year and with most aircraft on firm order set to arrive from 2025, complementing India's manufacturing and export growth. This will have a cascading effect in generating greater employment prospects and boosting various business sectors, while supporting the economy.
The firm orders comprising wide-body aircraft of 34 A350-1000, six A350-900, 20 Boeing 787 Dreamliner, and 10 Boeing 777X wide-body aircraft will increase Air India's annual cargo capacity by a staggering 300% to 2 million tonnes over the next five years with non-stop connection to key export markets globally.
Air India CEO and MD, Campbell Wilson, said, "At Air India, we see a huge potential in the air cargo industry, which the Indian Government plans to grow to 10 million tonnes by 2030. Our cargo division is implementing a series of strategic measures aimed at fostering growth and strengthening our market presence. The large passenger belly capacity addition will be augmented with the launch of value-added products and services across the network."
The following significant all-round initiatives across various spectrum of the operational and logistics matrix that will see Air India play a significant role in the air cargo arena.
Adoption of Technology
Latest IT solutions are being integrated to strengthen the use of technology, including blockchain, AI, and drones to optimize productivity. Short-term changes haven been devised in the existing IT Cargo System to enhance efficiency in areas like electronic data interchange, seamless connectivity with trade partners, and real-time updates on flight and shipment status. These advancements will help Air India to deliver a wide range of services with global capabilities viz. pharma logistics, door-to-door logistics with global partners, e-commerce, carriage of valuables, pets, cold chain for perishables, mail, trans-shipment with connection windows, etc.
Investments in Infrastructure
Air India, in collaboration with its joint venture partner SATS, is committed to investing substantial capital expenditure for developing airport and logistics infrastructure. The airline is also exploring possibilities of augmenting freighter capacity in collaboration with partners.
Integrated Cargo Market
Air India is set to launch three 24x7 control centres to integrate and improve customer interface, customer service and operations efficiency. As domestic e-commerce and other business expand in the Tier-2 and Tier-3 markets in India, Air India's expanding domestic network will add momentum. The integrated network, along with enhanced capacity will provide efficient, streamlined, and cost-effective connectivity in terms of point-to-point transportation to short and long-haul destinations throughout the network.
Expanding Reach
Air India is also proactively expanding its reach through strategic partnerships and collaborations. By strengthening interline partnerships and trucking network connections, the airline aims to foster increased exports. Currently, Air India transports cargo to over 40 international as well as 38 domestic destinations. The airline has also tied up with offline trucking points across the globe to expand its base besides coordinating with and service providers at Delhi, Mumbai, and Bengaluru airports to strengthen trans-shipment efficiency and volume at the main global hubs in India for all forms of trans-shipment.
Capacity to carry diverse products
Air India's diverse carriage of products and services will be further enhanced with increase in capacity and adoption of technology and help it to strengthen its position at a global stage. Movement and delivery of pharma logistics, door-to-door logistics through global partners, e-commerce, express services, general cargo, valuables, sensitive goods, pet transportation, and personal effects, as well as strengthened cold chain solutions for perishables, among others.
About Air India:
Founded by the legendary JRD Tata, Air India pioneered India's aviation sector. Since its first flight on October 15, 1932, Air India has built an extensive domestic network with non-stop flights to cities around the world, across the USA, Canada, UK, Europe, Far-East, South-East Asia, Australia, and the Gulf.
After 69 years as a government-owned enterprise, Air India and Air India Express were welcomed back into the Tata group in January 2022.
Air India is navigating through a major five-year transformation roadmap under the aegis of Vihaan.AI, with an ambition to become a world class airline with an Indian heart.