Sunday, 14 May 2023
Ethiopian Cargo partners with digital enabler cargo.one to lift off its digital sales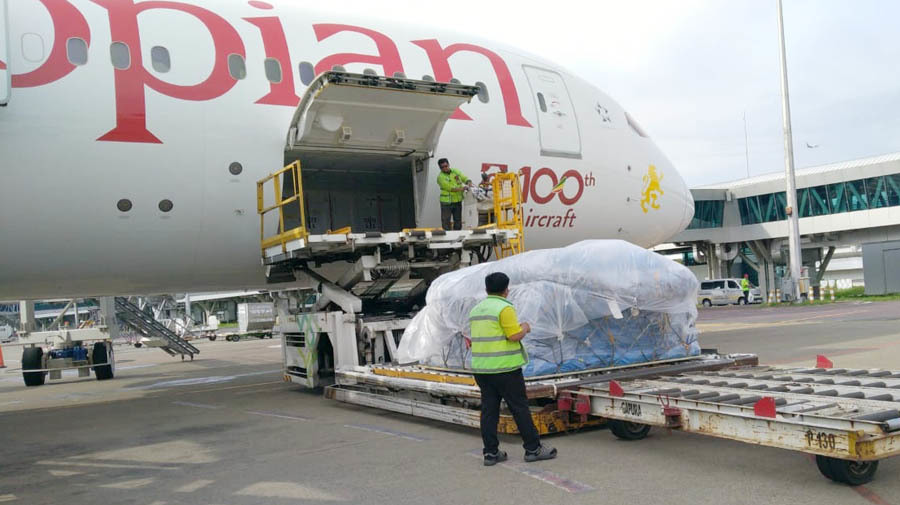 Ethiopian Cargo & Logistics Services (Ethiopian Cargo), the largest air cargo network operator in Africa, and cargo.one recently announced a significant partnership to offer the Ethiopian national carrier's capacities for instant booking on the air cargo booking marketplace. Comprising its debut digital sales channel, cargo.one now has an important collaborative role in transforming access to Ethiopian Cargo services for freight forwarders all across the world. Ethiopian Cargo gains cargo.one's vast digital sales expertise to enrich and propel its digitalization journey.
Ethiopian Cargo is pursuing a trajectory of ambitious growth in its mission to become among the top 20 cargo airlines worldwide by 2035. Operating Africa's largest air cargo network, the airline currently covers more than 130 international destinations around the world with both belly hold capacity and 69 dedicated freighter services using its modern and young fleets. In addition to its connectivity, Ethiopian Cargo offers forwarders great flexibility, including high-speed and priority shipments.
By joining an established, high-performing digital marketplace, Ethiopian Cargo will grow its visibility with agents worldwide and further enrich its brand into the digital realm. On cargo.one, the airline can trust that customers receive the very best digital standards for accessibility, online experience and control in the booking of its capacities. Ethiopian Cargo joins over 40 of the world's leading airlines that leverage cargo.one as a robust digital sales channel with customer centricity at its core.
Mr. Abel Alemu, Managing Director, Ethiopian Cargo & Logistics Services comments, "Digital sales will become a vital part of our future. Joining forces with cargo.one is the natural choice when looking for an experienced partner to enable the transition to digital sales. Collaboratively, we will extend Ethiopian Cargo's reach and launch digital customer experiences at the very top of the league. cargo.one as a partner that shares our own passion and drive to help boost Ethiopian Cargo to become a digital cargo role model not only for Africa, but internationally".
"We are honored to play a pivotal role in the digital transformation of Ethiopian Cargo as its primary digital sales channel. Many thousands of forwarders on cargo.one now look forward to a new age of access and convenience for its capacities. For Ethiopian Cargo, this key step forward will be instrumental in powering sales and brand growth and seizing more of its huge potential for important freight markets", adds Moritz Claussen, Founder & Co-CEO of cargo.one.
Ethiopian Cargo & Logistics is now working side by side with cargo.one experts and relying on insights from cargo.one360, to optimize its offer quality and experiences, and to fully capitalize on the airline's strengths and exclusive offers for the African continent. cargo.one will apply its global expertise to ensure that Ethiopian Cargo develops as a strong digital proposition.
Available in 76 countries globally, cargo.one is long established as the go-to digital choice for airline and agent rates in seconds rather than hours, with instant real time booking. cargo.one innovation helps both agents and partner airlines to thrive digitally. For example, cargo.one pro now delivers seamless agent-to-agent bookings, and equips forwarders to raise efficiencies, build trust and win new business around the clock.
Ethiopian Cargo & Logistics is one of the major strategic business units within the Ethiopian Airlines Group. It has demonstrated remarkable performance, growing in excellence and customer service each year and it has been winning global awards for its remarkable performance and service excellence.
From late Summer 2023, freight forwarders using cargo.one can book Ethiopian Cargo capacity to a wide range of regions including throughout Africa, Middle East, Asia, Europe and the Americas.