Sunday, 2 May 2021
Extending Brand Awareness, SiCepat Express Livery is Now on Citilink Airlines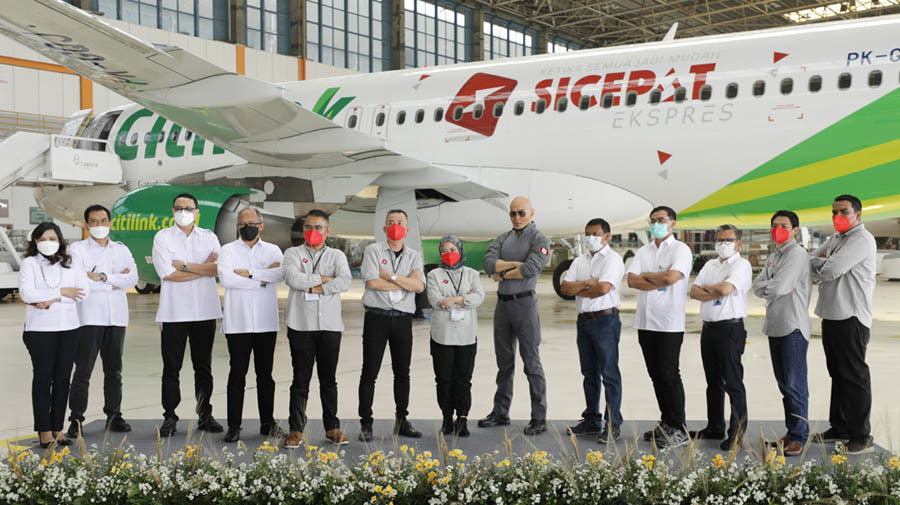 To increase Brand Awareness, PT. SiCepat Ekspres Indonesia (SiCepat) collaborated with PT. Citilink Indonesia (Citilink) by installing the SiCepat Ekspres livery on the fuselage and cabin on Citilink aircraft. The collaboration was officially announced at the "Ceremonial Launching of SiCepat Ekspres with Citilink" on Monday (19 April 2021) at the GMF AeroAsia Hangar, Soekarno-Hatta International Airport, Banten.
Present at the time were Board of Directors of SiCepat Ekspres, Chief Executive Officer (CEO) The Kim Hai, Chief Marketing Officer (CMO) Wiwin Dewi Herawati, Chief Operational Officer (COO) Murwanto, Chief Finance Officer (CFO) Andri Buchori, Chief Technology Officer (CTO) Reynaldi Oeoen, Chief Commercial Officer (CCO) Imam Sedayu, and also Citilink's Board of Directors, including President Director of Citilink Juliandra, Director of Commerce Benny Rustanto, Director of Operations Erlangga Sakti, and Director of Finance Ester Siahaan.
The CEO of SiCepat, The Kim Hai said that this collaboration is one of SiCepat's strategies to continue to introduce the SiCepat brand to the wider community as a real Indonesian shipping company that sustains domestic products, such as Citilink. With the branding collaboration carried out with Citilink on the two aircraft, it is hoped that the brand awareness of SiCepat can increase.
"Citilink has become a brand that has been embedded in the hearts of the public with the best service and has become an airline that is in great demand by the public for business and tourism travel. Therefore, it is hoped that the SiCepat Ekspres branding will be increasingly recognized in the wider community," explained The Kim Hai.
SiCepat Ekspres Asli Indonesia itself is also part of the SiCepat campaign to support partners in the logistics and e-commerce ecosystem, especially for local products, with the aim of immediately restoring the nation's economy amid the impact of the Covid-19 pandemic.
In addition, this collaboration is a form of response to SiCepat service users with package of delivery transactions reaching more than 15 million packages this April (data up to April 15, 2021) and it is predicted that in the second half of 2021 it will reach an increase of up to 42%.
Along with what SiCepat CEO's stated, Citilink's President Director, Juliandra said: "Currently Citilink fly to more than 80 routes in more than 30 cities in Indonesia so that the aircraft with the SiCepat Ekspres livery will eventually fly to various Citilink destinations in Indonesia. Thus, we hope that through the attachment of the SiCepat Ekspres livery, it can increase the SiCepat Ekspres brand awareness as an authentic Indonesian brand throughout the archipelago".
SiCepat is Citilink's top cargo contributor through the collaboration between Citilink and SiCepat's cargo partner, CKL, SiCepat's sister company which is engaged in freight forwarding. The collaboration between Citilink and CKL itself has been going since 2018, especially in the field of logistics or cargo shipping.