Thursday, 17 August 2017
Indonesian N219 Aircraft Succeeds in First Test Flight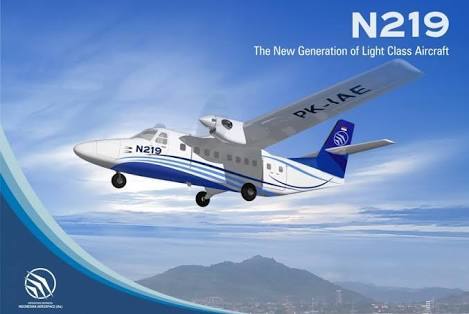 The Indonesian-made N219 aircraft successfully landed at Husein Sastranegara International Airport in Bandung after a 30-minute test flight on Wednesday (16/8).
During the test, the plane was piloted by the chief test pilot of state-owned aircraft company PT Dirgantara Indonesia (DI), Captain Esther Gayatri Saleh, and Captain Adi Budi Atmoko.
Hundreds of engineers and technicians welcomed the 19-seat aircraft during its smooth landing. It was an emotional moment for some of them, including the chief engineer of PT DI's N219, Palmana Bhanandhi, who was in tears.
Twenty-two years ago, a N250 twin-engine aircraft with a capacity of 50 passengers, also produced by PT DI, succeeded in its test flight.
"The difference is that at that time, high ranking officials attended the event, while the employees watched the landing from a distance," said PT DI aircraft development staff expert Andi Alisjahbana.
PT DI president director Budi Santoso explained that the plane was the third of four N219 planes being developed by the company. Two planes, he said, would undergo test runs while two were prototypes.
"We need 300 hours of flight. Today's test was only 30 minutes. We hope that the airplanes will be able to connect people in remote areas," Budi said, adding that the plane was a gift for Indonesia's 72nd Independence Day on Thursday.
The project, he said, cost US$62 million. "We still need additional funds of Rp 200 billion ($14.95 million) to put the plane into production." (thejakartapost.com)