Wednesday, 7 November 2018
DPDHL Group's DRT Processes About 3,500 Tonnes of Cargo to Ensure Quick Aid to Palu Survivors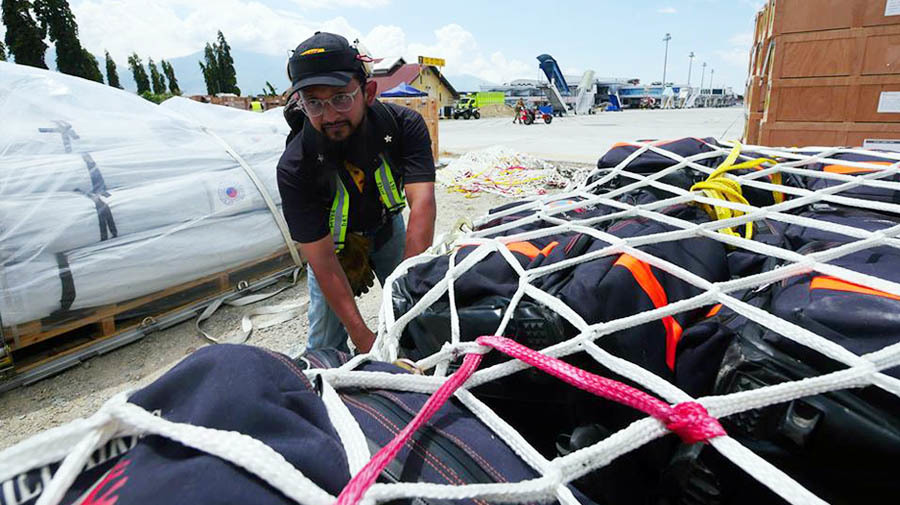 The Disaster Response Team (DRT) of Deutsche Post DHL (DPDHL) Group saw 26 DHL volunteers provide logistics support during relief efforts in Indonesia upon the request of the government through BNPB (Indonesian National Board for Disaster Management) and the ASEAN Coordinating Centre for Humanitarian Assistance on Disaster Management (AHA Centre)
The volunteers together with members of the UN facilitated logistics planning and operations across non-governmental organizations (NGOs), airport authorities and military organizations during its latest DRT deployment, a first for the team. During the course of this deployment, the DRT facilitated the smooth processing and efficient flow of nearly 3,500 tonnes of relief goods.
Over the course of 23 days, the volunteers worked tirelessly over three teams during week-long rotations to support international efforts in response to the disaster in Palu, Sulawesi. As international aid poured in, the DRT coordinated efforts from public and private organizations across borders to ensure a smooth flow of aid for the quake survivors, while fostering civil military relations. The deployment concluded last week (October 8) when BNPB shifted its focus from relief to recovery efforts.
On the ground, volunteers were split between operating on the runway of Mutiara SIS Al-Jufrie Airport in Palu, ground zero of the earthquake and tsunami which took place on September 28, 2018, and at the Sultan Aji Muhammad Sulaiman Airport in Balikpapan (East Kalimantan), which served as a staging airport for incoming aid. While the team in Palu were tasked with helping to manage incoming aid for further distribution to the survivors, volunteers in Balikpapan were responsible for coordinating the supply chain of aid transportation to Palu.
Carl Schelfhaut, GoHelp Manager, Asia Pacific, DPDHL Group said, "This deployment was unlike others as the DRT took on the unique role of managing the transportation of aid. As incoming relief goods needed to be ferried from Balikpapan to Palu, and emptied-out pallets in Palu needed to be returned to their respective organizations in Balikpapan, there was a need for a central coordinator for this process. This would ensure the right aid would get to Palu at the right time for onward distribution to those most in need."
He continued, "The DRT would organize daily briefings with non-governmental organizations and national military forces to match available aid and returning pallets with the relevant aircraft. The team also had to confirm the corresponding flight itineraries with airport authorities. We are proud to have been entrusted with such important responsibilities and we are most heartened by the relief we bring to the quake survivors."
DPDHL Group's DRT was in Indonesia between October 4 and 26, 2018 at the request of the BNPB and the AHA Centre. This particular deployment was one of its longest in the region to date, similar to the team's 2015 involvement in the Nepal disaster response efforts.