Thursday, 5 May 2022
On The 7th Anniversary, CEO Lionel Group Appreciated Their Staffs, Loyal Customers, and Partners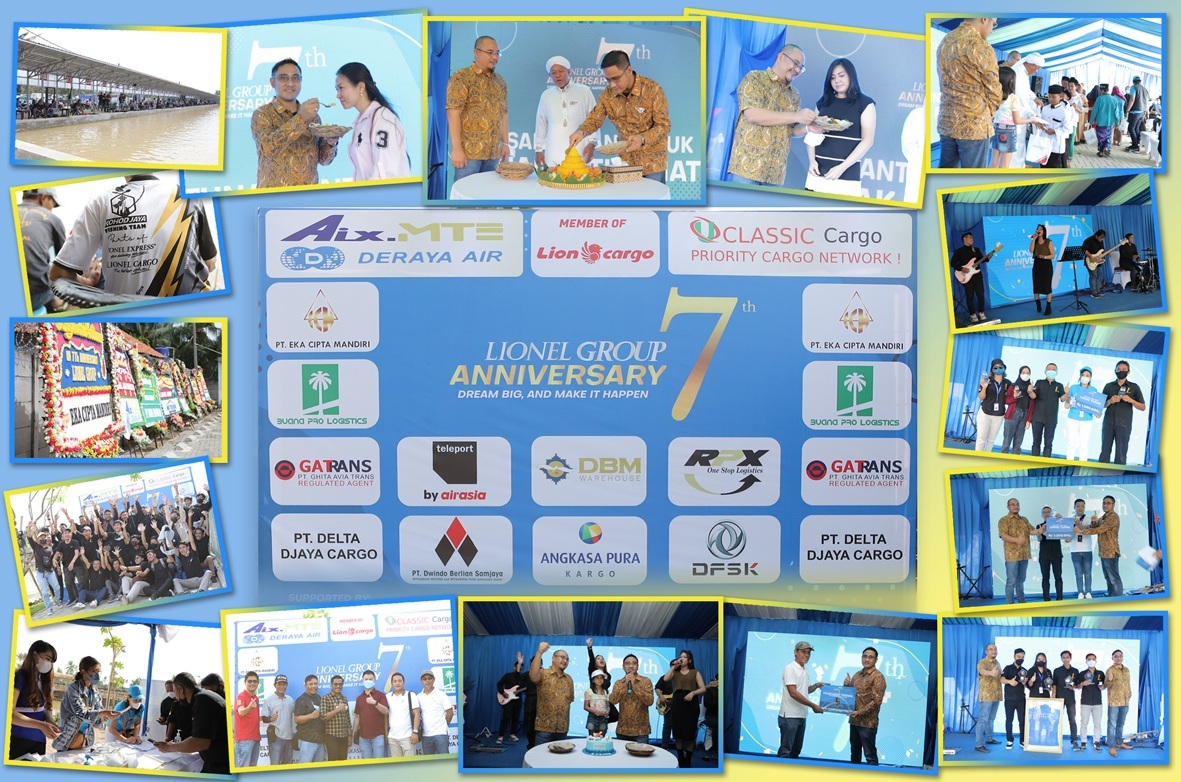 Lionel Group (Lionel), a national logistics company in domestic Express and Cargo, celebrated their 7th anniversary in March. To express their gratitude to their staff and give appreciation to their partners and loyal customers, Lionel celebrated the unforgettable and blithe anniversary at Kohod Jaya Fishing, Pakuhaji, Tangerang, Banten.
The sense of festive has been visible at the parking lot filled by the wreaths from partners, customers, and other stakeholders, such as Lion Air Group, Deraya Air, Teleport AirAsia, Angkasa Pura Kargo, and others as signs of their supports to wish Lionel be able to achieve their dreams as in the anniversary of Lionel Group "Dream Big, Make It Happen".
Applying the health protocol, the open space event was started with fishing competition for internal staff. While waiting for the invitee, all guests that had registered and were on the area were entertained by an attractive live band "Be Mind". The program was also entertained by an entertaining MC.
After a brief speech, one of Lionel owner, Mr. Misael Harris (CEO Lionel Express), the event was continued with pray led by Mr. KH Sa'adih Al Batawi that expressed gratefulness for the Lionel's anniversary and also support Lionel's dreams to be still existing and keep growing to become a big company.
Continued with Potong Tumpeng that was conducted for the first time by the Lionel's owner, Mr. Yusak Elsabas (CEO Lionel Cargo), where the first cut was given to his wife, the second cut conducted by Mr. Misael Harris and given to his wife. According to Kiyai Sa'adih, this showed that behind the success of a business, a wife takes an important role.
They also give compensation to orphans and the community around directly from the Lionel group's owner and one of the owner's daughters; hope, Lionel's anniversary would bring blessings for all people.
A company won't succeed without the employees' big role as the company's assets. Therefore, on the anniversary day, Lionel gave some awards such as trophies, giant checks, and cash to some well-performing employees. This will spur other employees who haven't got a chance to follow the winners.
For the internal employees fishing competition was given some prizes. The first winner got Rp. 2,000,000 plus a PKJ Voucher worth Rp. 500 thousand, the second got Rp. 1.000,000 and PKJ Voucher worth Rp. 500 thousand, and the third winner got Rp. 500,000 plus PKJ voucher worth Rp. 500 thousand.
And to lighten event, for the guests or employees who had registered in Register Table. On the anniversary day, Lionel had prepared door prizes as Tab Samsung, and Smart TV Xiamoi 43 inch. Meanwhile for the Grand Prize for the employees are Laptop Lenovo, and the Grand Prize for sponsorship was laptop flip book Asus.
"Today, we are gathering here, not only do we celebrate the 7th anniversary, but we also give appreciation to all employees from the low level to manager level who have been working all along, even since the last 2 years," said Misael to Cargo Times.
He continued, this anniversary was also held for our loyal customers who have put their trusts to Lionel to deliver their goods to the destination.
"And of course for our long existing partners like airlines, warehouses, vendors, and others who have helped us to deliver our goods," said Misael.
Happy 7th Anniversary Lionel Group, "Dream Big, Make It Happen"