Tuesday, 3 August 2021
Achieve AOC, Super Air Jet Ready to Fly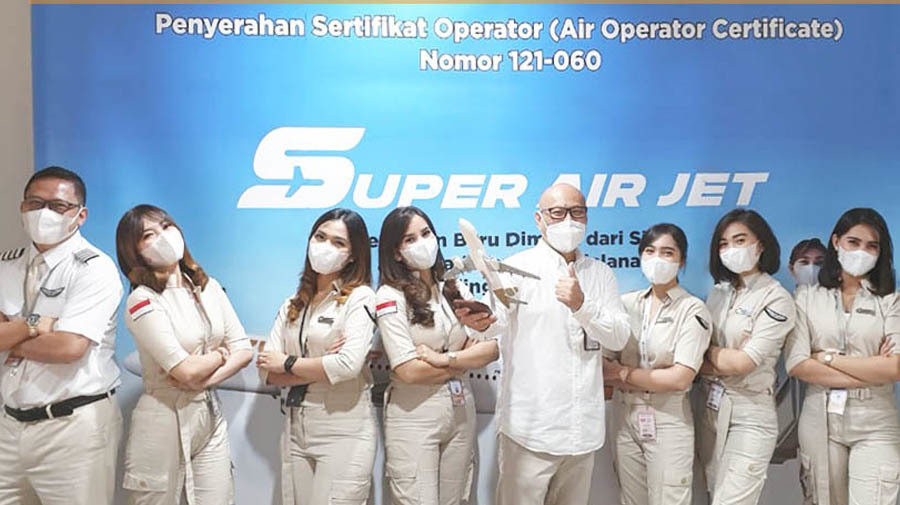 Quoted from the Harnas.co website, a new private airline, Super Air Jet (SAJ), which carries a more modern 'millennial' concept, has officially received and possessed an Air Operator Certificate (AOC) Number 121-060.
Following the approval given by the National Aviation Authority - in this case, the Directorate General of Civil Aviation and the Director of Airworthiness and Aircraft Operations, the Indonesian Ministry of Transportation to allow SAJ to operate aircraft for commercial purposes.
Herewith, SAJ, which carries the slogan Reaching New Heights or 'Breaking New Heights', has fulfilled the certification process and a series of stages carried out for nine months in accordance with ICAO (The International Civil Aviation Organization) provisions. In fulfilling this certification process, SAJ has passed through 5 (five) stages or phases, namely Pre-Application, Formal Application, Document Compliance, Demonstration & Inspection, and Certification.
"We would like to thank all parties involved, including regulators, airport managers, air traffic controllers, and other related institutions for their cooperation and coordination so far. The main hope is that synergy can be well established," said Super Air Jet's Chief Executive Officer, Ari Azhari in a written statement, Wednesday (30/6).
Carrying the vision of "To empower the next generation to reach new heights" and the mission of "By providing air transport connectivity Globally that is safe, reliable, and affordable", SAJ is committed to providing safe, comfortable, and affordable air transportation services.
SAJ is confirmed to have obtained a Scheduled Air Transport Business License (SIUAU-NB) with the number SIUAU/NB-036, has the flight code "IU" from IATA (The International Air Transport Association), "SJV" from ICAO, and "PROSPER" for Callsign in the air.
In the initial stage, SAJ will operate three Airbus 320-200 fleets with a passenger capacity of 180 economy class seats that are comfortable in their class, and ergonomic seats.
Ari Azhari confirmed, "Currently, Super Air Jet is preparing its inaugural flight with domestic routes that are considered very potential, have regional advantages, as well as flight trends for the millennial passenger category."
SAJ was founded on the basis of optimism that market opportunities, especially the needs of domestic flights, still exist and are wide open. "There is a very strong demand from society for air travel right now, especially millennials," he said.
"This is in accordance with the geographical conditions of Indonesia as an archipelago country so that air transportation for transporting people and goods is indeed needed, inter-regional connectivity will also be connected and created well," he explained.
SAJ was designed and prepared to allow many people to travel by plane for tourism, education, young entrepreneurs, and visiting various favorite destinations.