Sunday, 13 June 2021
JD Logistics Launches China - U.S Cargo Flight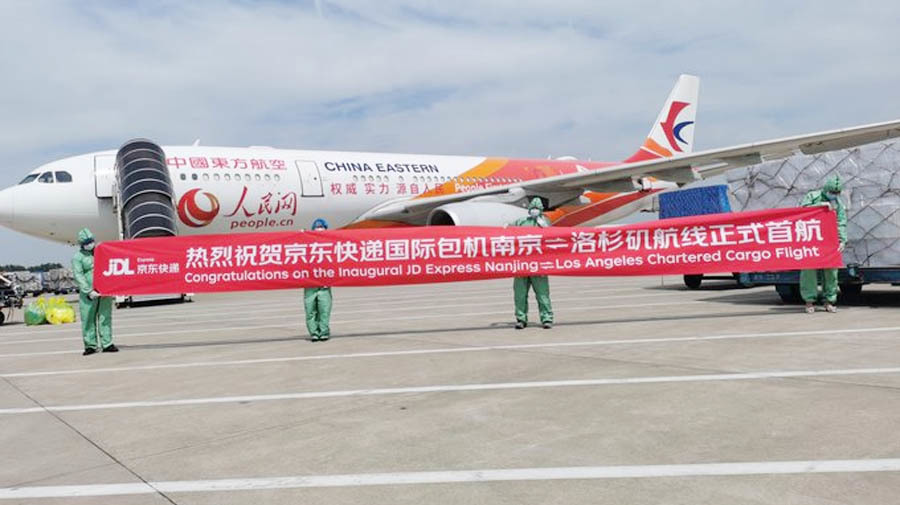 JD launched its first cargo flight between China and the U.S. on Jun. 7, following the launch of its China-Thailand charter flight on May 28.
"Leveraging JD.com's e-commerce advantages and the company's overseas warehouses network, we are building an end-to-end fully self-operated route to facilitate the transport of quality Chinese products to the U.S. and vice versa," said Stard Huang, President of JD International Logistics.
The route between Nanjing Lukou International Airport and Los Angeles International Airport will be operated three times a week by China Eastern Airlines. By launching front warehouses in Shanghai and Shenzhen, the freight route will be able to deliver products from China's two major manufacturing regions in eastern and southern China. Currently, goods mainly include cross-border e-commerce products such as apparel and fast-moving consumer goods (FMCG).
With JD's U.S. warehouses in California and New Jersey, the flight will be able to enable transportation from China to clients in the U.S. as fast as 48 hours, greatly reducing the fulfillment time and further stimulating goods transport between the two countries.
JD's international logistics business has been working with enterprises to help them shorten cross-border delivery time and build up their global distribution capabilities. The e-commerce and logistics powerhouse targets to build a "double 48" network to deliver from China to the destination country within 48 hours and deliver to the end customer within 48 hours.
JD has 32 bonded warehouses and overseas warehouses, with a total management area of approximately 440,000 square meters as of December 31, 2020. Through cooperation with international and local partners, JD has established international routes covering more than 220 countries and regions.