Saturday, 5 February 2022
Supporting Export Premium Products, Garuda Indonesia Opens Direct Flight Routes For Cargo Transport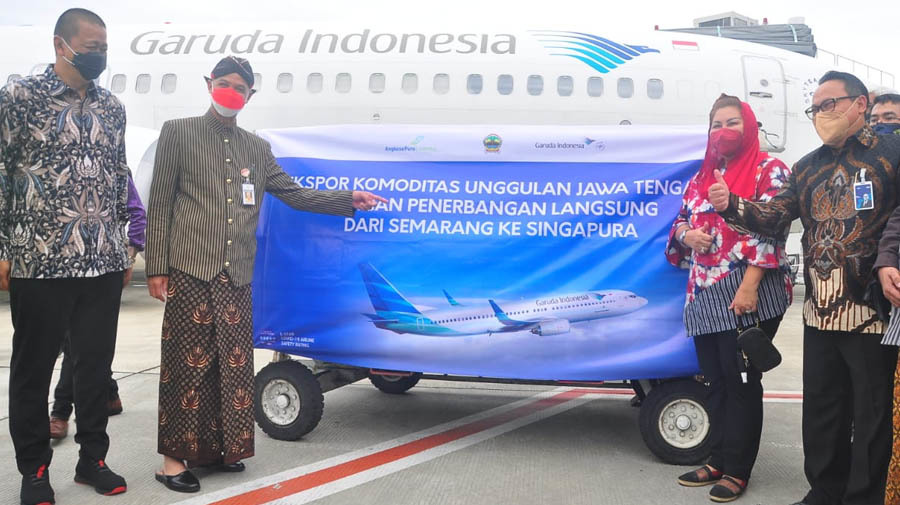 Garuda Indonesia, a flag carrier, launched the special routes of Semarang - Singapore for cargo transports on Thursday (13/1/2022). The service is a part of Garuda's sustainable efforts to optimize the cargo business lines through an international flight network expansion of special cargo.
The President Director of Garuda Indonesia, Irfan Setiaputra, said that the program is in tune with Garuda's commitment to supporting the competition improvement of the national export commodity through cargo delivery network direct from the producers' place of origin.
"In the operation, Garuda Indonesia transported various Central Java's premium commodities like fishery and other export commodities and other MSMEs products using Boeing B737-800NG with carrying capacity up to 12 tons," said Irfan.
The flight is only once a week and departs from Ahmad Yani International Airport (SRG), Semarang, Semarang at 10.30 LT and arrives at the International Changi Airport (SIN), Singapore at 13.40 LT.
On that occasion, Garuda carried 6.3 tonnes of fishery products and photo albums that were exported to Singapore through the Semarang-Singapore cargo flight. The total value reached Rp. 250 million.
Irfan said Garuda keeps committing to be the front liner and be active to recover the national economy. One of it is the connectivity provision to support the activities over direct call export of Indonesia premium commodities, here is Central Java that produces export products whose traffic keeps increasing significantly every year, especially in the last three years.
"Having the direct flight, we hope it will improve the competitiveness of export quality commodity products with faster delivery by air cargo, especially for the premium products like agro and fishery products that need pace delivery time and process to keep the freshness quality of commodity so that it will be able to produce more competitive products," he said.
Irfan continued, by opening direct flight of cargo is the follow-up over the strategic collaboration done by Garuda Indonesia and Central Java Provincial Government to maximize the export commodity potency.
Meanwhile, the Head of Trade and Industry Department of Central Java Province Muhammad Arif Sambodo said the premium Central Java products to Singapore are mostly furnitures and garments.
"Of the big 10 products are mostly processing industries with Small Class Industry. Horticultural and fishery products are at number 10. That's potency. There is a potential export to Singapore too such as footwear, leather products. Overall, the export for footwear is growing well and so are the leather products", he explained.
Others direct flight
Along with the increasing trend of air cargo demand which shows promising potential, Garuda Indonesia continues to strengthen the development of its cargo sector business line. Since the Covid-19 pandemic, in the last 3 years, Garuda Indonesia has continued to optimize its special cargo flight network to support the movement of national leading export commodities by opening several special cargo flight routes including:
Surabaya (SUB) - Makassar (UPG) - Hong Kong (HKG)
1. On Saturday (30/10/2021) Garuda Indonesia inaugurated special routes for cargo, Makassar (UPG) - Hong Kong (HKG) that are directly connected with cargo flights from Surabaya. In the operation, Garuda Indonesia transported about 12 tons of South Sulawesi's premium commodities such as live grouper (Kerapu) using Airbus A330-300.
Special cargo routes of Makassar - Hong Kong is the expansion of Surabaya-Hong Kong routes that have been operated since 2021 and is a part of cargo flight network expansion to support the improvement of the national premium export commodities' competitiveness, especially in Eastern Indonesia that is well-known with premium commodities of marine products.
2. Starting from Saturday (6/3/2021), Garuda Indonesia officially serves special cargo routes from Surabaya - Hong Kong, which is part of the effort to expand the cargo flight network to support increasing the competitiveness of national leading export commodities, especially the East Java province. On the inaugural flight, Garuda Indonesia transported superior commodities from East Java, which consisted of East Java MSME products, fishery commodities, and other production products.
This special cargo flight is served once a week with an Airbus A330-300 fleet which has a carrying capacity of 30-40 tons on each flight. This special Surabaya - Hong Kong cargo route departs from Juanda International Airport (SUB) at 06.00 WITA and arrives in Hong Kong (HKG) at 12.00 LT.
Denpasar (DPS) - Hong Kong (HKG)
On Saturday (7/11/2021) Garuda Indonesia inaugurated the cargo special routes of Denpasar - Hong Kong. In the inaugural flight, Garuda Indonesia carried 30 tons of cargo that contained fishery and other agricultural products from Bali Province.
The special cargo routes of Denpasar - Hong Kong is served once a week using Airbus A330-300 that can accommodate 30 - 40 tons in every flight.
This Denpasar - Hong Kong special cargo route departs from I Gusti Ngurah Rai International Airport (DPS), Denpasar at 07.00 WITA and arrives in Hong Kong (HKG) at 12.00 local time.
Manado (MDC) – Narita (NRT)
Since the opening of Manado - Narita cargo special routes in September 2020 until November 2021, Garuda has successfully recorded the total tonnage as many as 317 tons, where the cargoes are from premium export commodities from Manado and other Eastern Indonesia regions. The flights are also connected with several other routes such as Jakarta, Makassar, and Ambon.
The direct special flights of Manado - Narita departed from Sam Ratulangi International Airport (MDC), Manado every Wednesday at 23.40 Local Time and arrived at Narita International Airport (NRT), Japan at 06.35 Local Time using A 330-200 fleet that has a capacity up to 30 tons in every flight.
Charter
In addition, Garuda Indonesia is also developing the accessibility of its cargo flight network through charter flight services for cargo delivery needs via direct flights and point to point, which are also optimized by operating passenger freighter fleets, such as:
1). Garuda Indonesia sent two leading commodities, namely 25 tons of garment products from Sukabumi, Bogor, and Semarang to Dubai, and 12 tons of mangosteen fruit from Bali to Shanghai and Guangzhou. Garment transportation is served from Jakarta to Dubai with special charter flights on October 24, 2021. Meanwhile, mangosteen fruit shipments from Bali to Shanghai and Guangzhou are flown on regular flights in mid-October. The delivery of these commodities is served by using a B777-300 ER fleet with a carrying capacity of up to 40 tons.
2). Garuda Indonesia transports agricultural export products from Padang, in the form of 33 tons of mangosteen fruit commodities to Guangzhou, China. The transportation of these export products is served by special charter flights for the Padang - Guangzhou route on Wednesday (3/2/2021). Cargo charter flight number GA 8960 operates an Airbus A330-300 with a carrying capacity of up to 40 tons on each flight.
The flight departed from Minangkabau International Airport (PDG) at 09.05 Local Time and arrive at 14.45 LT at Baiyun Guangzhou International Airport (CAN), China.
3). On Tuesday (23/2/2021) Garuda operated a cargo charter flight from Kertajati BIJB International Airport (KJT) to Hang Nadim Airport (BTH), Batam. The inaugural charter flight carried premium commodities and West Java's MSMEs products using Boeing 737-800 NG that has carriage capacity of up to 10 tons.
4). And many more charter flights ....
The CEO of Garuda Indonesia believes the steps of work recovery, that Garuda Indonesia is accelerating, won't be obtained without any support from a solid ecosystem economy, one of them being business entrepreneurs and regional MSMEs.
"Therefore, carrying out a mission to grow together in work acceleration becomes the main focus that we will maintain to make sure our progress as a national flag carrier, always in line with the state mandate to actively take our role and optimize our contribution in developing the country," closed Irfan.