Tuesday, 5 July 2022
TIKI Built Fish Quarantine Installation Facility at Soekarno-Hatta Airport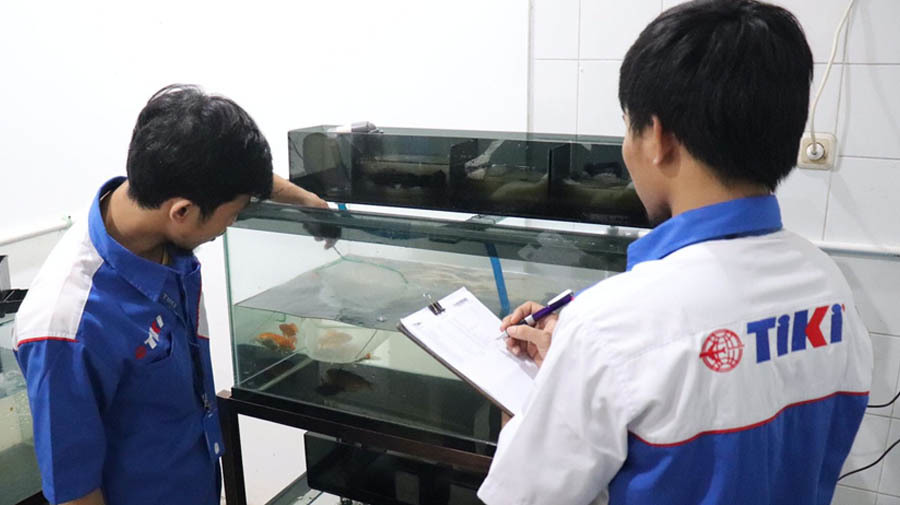 PT Citra Van Titipan Kilat (TIKI), a national courier company, gave their supports as in facilities for ornamental fish lovers community. Recently, TIKI obtain a permit from the Fish Quarantine and Inspection Agency (BKIPM), the Ministry of Marine Affairs and Fisheries, to build Fish Quarantine Installation facility (IKI) at Transit M1 Warehouse, Soekarno-Hatta International Airport (CGK), Tangerang.
So TIKI becomes the only courier company that got a permit to build an IKI facility that will ease and fasten more of quarantine document making for the ornamental fish lovers community.
The Managing Director of TIKI, Yulina Hastuti said it's been long that TIKI partners with BKIPM; and TIKI ahs become the only courier company that handle fish delivery that meet the standard and competencies applied by BKIPM under the Ministry of Marine Affairs and Fisheries.
"As we got a permit to build our own facility for Fish Quarantine Installation from BKIPM becomes a continual joint venture that will proceed the delivery even easier for the ornamental fish lovers community," Yulina said in her official statement, Tuesday (31/5).
Moreover, IKI facilities cover aquarium and other facilities like oxygen, water filters that support the implementation of quarantine with the standard of implementation management of the Good Fish Quarantine Procedures (CKIB - Cara Karantina Ikan yang Baik).
The delivery of ornamental fish that keep growing in the last few years, now, get good appreciation from a related authority using new regulations that are more profitable for the fish lovers community.
The minimum shipment weight requirement is 10 kg, which had previously been an airline regulation, has been abolished since last April. That way, the sender will only be billed for shipping costs for the real weight of the shipment or a minimum of 1 kg.
In addition to eliminating the minimum 10 kg shipment weight, the cost of processing a fish quarantine letter, which was under the old rules had several cost groups depending on 3 groups of minimum weight, is now a flat rate of IDR 45,000.
This will ease the cost component of delivery that should be paid by the consignee or purchasers.
"As the pioneer in the ornamental delivery service, TIKI keeps trying to become a reliable delivery partner for the ornamental lovers community through service innovation and complete facilities, with safety and security warranty in accordance with the applied regulation," said Yulina.
"TIKI has integrated services with various delivery service choices that can be adjusted with the needs, fish quarantine document management and packaging service," she closed.