Wednesday, 4 September 2019
ICAC Cargo Airlines Award: Garuda is the winner at Aspac Sector, Emirates obtains two awards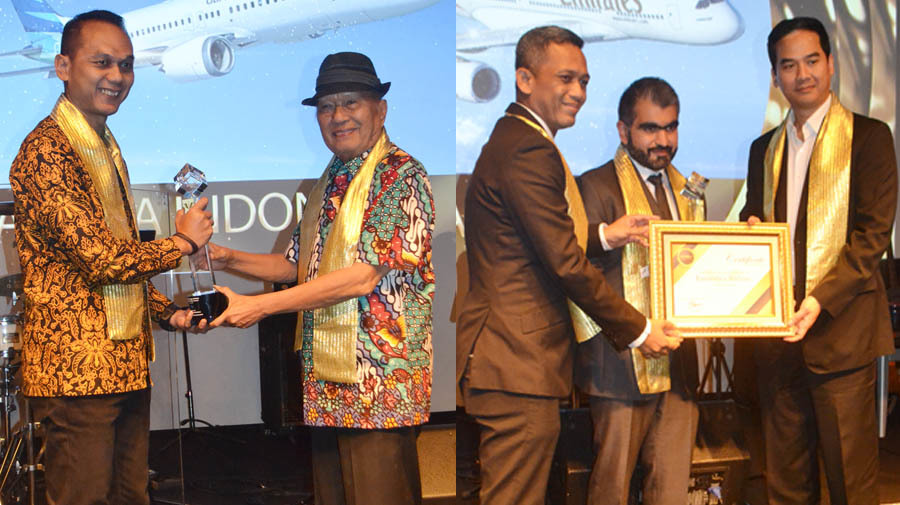 (left) One of the founders of ICAC, Monang Sianipar gave the trophy to Dedy Irawan from Garuda Indonesia as The Best of Cargo Airlines for Asia Pacific Sector; (right) The Deputy Chairman of KADIN, Adisatrya Suryo Sulisto gave the trophy and certificate of achievment to Amer Al Zarouni & Rudi Eka Putra - from Emirates Airlines as The Best of  The 2019 Cargo Airlines

The association of cargo agents companies that is under ICAC (Indonesia Cargo Agent Club) succeeded to organize an event for air cargo award for airlines on Wednesday (August 14, 2019) at Lounge XXI, Plaza Senayan, Jakarta.
All members of ICAC, who are mostly from forwarding agents, attended the event; also, other guests as representatives from airlines, privates and flag carriers like Garuda Indonesia, Emirates, Etihad, EVA Air, Ethiopian Airlines, Korean Air, Oman Air, and others.
There were also some honorary guests like ICAC founders, Mr. Monang Sianipar and Mr. Soedjarwo Sudarmo, then the Deputy of Indonesian Chamber of Commerce and Industry (KADIN), State-owned Enterprise sector, Mr. Adisatrya Suryo Sulisto, who is also a member of Commission VI DPR RI V, and Mr. Mahendra Rianto, the Vice Chairman of Indonesian Logistic Association (ALI).
The first time event in air cargo sector was filled by dinner, entertainments of modern and traditional dances, live music (band), also door prizes and grand door prizes.
In the welcome speech, the Head of Program, Mr. Adrian Dwitomo said that the ICAC Cargo Airline Award is an initiative from the current Chairman of ICAC, Mr Ade Wellington Adrian.
The award, he said, is based on the survey over all ICAC members to evaluate the airlines' performances. The evaluation was conducted to airlines that operate at the Soekarno-Hatta International Airport (CGK). 
"It's our honor, all guests who attend the event tonight are the witnesses of a history of the first time Cargo Award event in Indonesia," said Adrian Dwitomo who is also one of forwarding companies' leader.
And in the welcome speech, Mr. Ade Wellington Adrian, the Chairman of ICAC said that ICAC today is the biggest contributor to airlines that operate in Indonesia (60 per cent - 70 per cent of total export). As the major contributor to the international cargo fill, it's ICAC's commitment and a time to give feedback to airlines, especially cargo airlines services.  
"We hope the award is not only a reference for the ICAC members to choose the best and reliable airlines, but airlines may also accept feedbacks from their customers, cargo agents," said Ade, who also a Head of Express and Forwarding company.
The award, he continued, becomes inputs to airlines who haven't won the award tonight so that they can improve their performance. And to the finalists, they need to maintain and improve their quality continually until all the members of ICAC are fulfilled.
The Results:

1. Category of Asia Pacific Sector
The Winners: Garuda Indonesia

Recipient: Mr. Dedy Irawan, Vice President Commercial Garuda Indonesia Cargo

2. Category of Europe Sector 
The Winner: Emirates Airlines

Recipient: Mr. Amer Al Zarouni, Manager Emirates Sky Cargo for Indonesia
3. Category of North America Sector

The Winner: Cathay Pacific
Recipient: Mr. Imam, Cathay Pacific Indonesia representative
4. Category of Africa, Middle East, & America Latin Sector
The Winner: Ethiopian Airlines

Recipient: Mrs. Azeb Tefera, Country Manager Ethiopian  Airlines for Indonesia
5. Category of The Best of The Best Cargo Airlines
The Winner: Emirates Airlines
Recipient: Mr. Amer Al Zarouni and Mr. Rudi Eka Putra, Cargo Controller Emirates Indonesia