Tuesday, 13 October 2020
Ethiopian Airlines is Optimist to Get Through The Crisis by Adapting The Business Strategy to Become Vigorous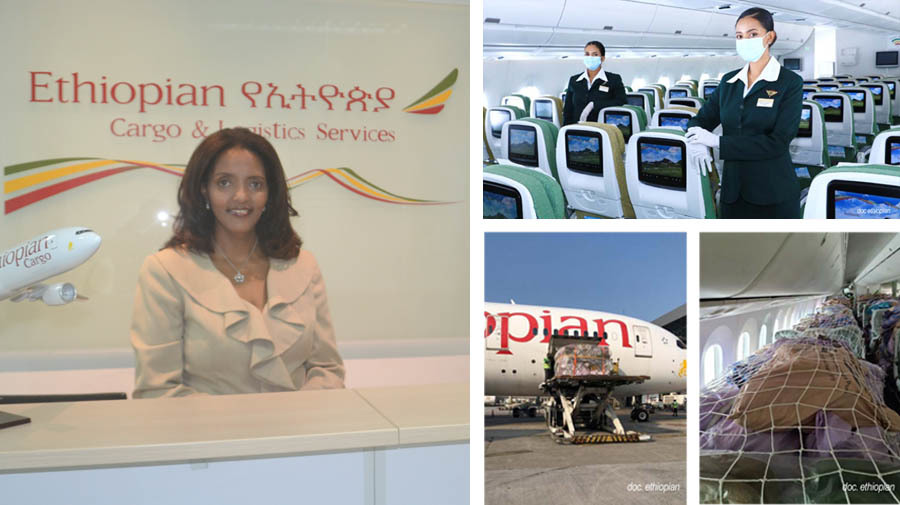 CT: During the COVID 19 pandemic, IATA predicted the world airline business would drop to minus point. Externally, how big is the effect of the pandemic towards the Ethiopian Airlines (International routes) ?
Mrs. Azeb T. : The aviation industry is one of the hardest hit by the pandemic, and Ethiopian Airlines is no different. We had been operating with only 10% of our passenger service capacity until borders started to reopen recently resulting in a slight improvement. The sharp decline in passenger numbers has affected our business.
Routes and frequencies also decreased due to travel and entry restrictions of many countries.
CT: Currently, the lockdown regulations in some countries have been relaxed. What strategies will Ethiopian Airlines do so as to increase the numbers of International flight passengers?
Mrs. Azeb T. : Some of the Safety measures we are doing to restore passenger confidence and increase the number of international passengers are:
• Ethiopian has been effectively implementing international and national regulatory bodies' recommendations to prevent the spread of COVID 19.
• As safety remains our priority, we follow strict safety guidelines to effectively maintain the highest level of aviation safety. We have put in place various safety measures both on the ground and onboard.
Besides enhancing the safety measures, we have also digitized our services end-to-end and relaxed our ticket policy with a view to offer convenience and contactless service.
At the Airport
> All Ethiopian aircrafts are thoroughly cleaned and disinfected prior to departing from the hub, and at turnaround stations.
> Every customer and staff touch point is regularly disinfected and cleaned intensely.
> 24 hours Shoe disinfectant mat at every location at Addis Ababa Bole International Airport.
> Infrared thermometer and video temperature detectors at passengers departure and arrival terminals.
> Hand sanitizer boxes at multiple spots within the airport.
> Frequent disinfection of all terminal facilities (conveyor belt, x-ray walkthrough, queue barrier, and carousel) and passenger trolleys.
> Frequent disinfection of check in, immigration counters, boarding counters and passenger plastic trays.
> To ensure adequate social distancing, markings are placed throughout the terminal building.
> Passengers are allowed to bring on board only essential items such as laptops, handbags, briefcases, and baby items.
> All checked-in bags will be sanitized before being loaded onto the aircraft.
> To reduce contact between customers, boarding is done in an orderly manner by seat-rows starting from the back of the aircraft towards the front.
On board
> Inflight experience is seamless with maximum onboard safety for passengers and flight crew.
> Passengers and flight crew are provided with facemasks to protect themselves and others from infection.
> Temperature screening of flight crew is carried out before and after each flight.
> The flight crew also wear full body personal protective equipment.
> Deep cleaning and disinfection of the flight deck is carried out after each flight and lavatories are cleaned between uses.
"Comfort items" such as pillows, blankets, headphones, and toys are hygienically sealed.
> Meal service is revised to minimize contact. But the African flavored Ethiopian hospitality you're accustomed to will continue to be evident throughout.
Cutlery is sterilized before each use.
> Menus, magazines and newspapers are no longer available onboard.
> Crew are trained to handle flight operations in a COVID-19 travel world.
CT: Before the Covid-19 pandemic, what kinds of benefits did Ethiopian Airlines offer to Indonesian travellers (tourist/business person) if they use Ethiopian Airlines?
Mrs. Azeb T. : Ethiopian Airlines, the largest aviation group in Africa and SKYTRAX certified Four Star Global Airline, always goes the extra mile not only to meet its customers' needs but also to excel their expectations.
Ethiopian Airlines is the only African carrier serving The Republic of Indonesia with four times a week flights using the latest B787 ultra-modern and environmentally friendly aircraft. It is providing the best convenient connectivity to its vast regional and international network to travelers in Africa and Indonesia.
We have been also offering African flavored world class service to our passengers with a modern fleet deployed in our vast global network.
We have been availing an attractive Cloud Nine cabin with spacious seats and special passenger care from Jakarta to our destinations worldwide.
We have also provided customers with access to lounge and additional baggage allowance for Cloud-9 (Business class) passengers.
We provide a free city tour package for transit passengers if they have more than eight hours in Addis Ababa until their next connection flight. They visit historical sites in Addis Ababa for free.
In order to provide our customers with seamless travel experience Ethiopian has already developed its mobile app whereby our customers can book their flight , do flight check in ,issue boarding pass, checking flight status of flight, get actual and arrival time of flights.
Customers are entitled for a special discount when they buy their tickets on Ethiopian mobile App.
We are availing full hotel accommodation and transit visa at Addis Ababa for our esteemed customers who may have more than 8 hours but less than 24 hrs transit time to connect their onward flights.
Our passengers are also getting benefit from our ShebaMiles, Frequent Flyer Program. Their membership benefits begin from the moment they join. ShebaMiles Program Members can earn miles through flying on Ethiopian Airlines, ASKY Airlines, Malawian Airlines and Star Alliance Partner airlines. Once enough miles are accumulated, they can be redeemed for Award Tickets and Class Upgrades on Ethiopian Airlines and its partners.
E-visa on website is also available whereby a visa to Ethiopia will be processed and issued online. This is an opportunity for Indonesian travelers to visit our country Ethiopia, the land of diversity rich in history and home to nine UNESCO World Heritage Sites.
CT: During the pandemic, are there any flights to Jakarta CGK? If there are, what kind of health protocol procedures does the Ethiopian Airlines airline apply?
Mrs. Azeb T. : Yes, we operate flights to Jakarta to transport Indonesians and foreigners who hold work/resident permit by implementing all the health protocol procedures put in place by Ethiopian and that of the Indonesian government. We are also uplifting cargo from Indonesia on our passenger aircraft both in cabin and belly.
CT: In Indonesia especially (before the pandemic), how was the performance of Ethiopian Airlines Cargo during 2019, in terms of the total volume (tonnage) and commodities that were carried?
Mrs. Azeb T. : During 2019, we could carry 400 tons of cargo from Jakarta (CGK) using bellyhold capacity. However, in this pandemic, Ethiopian Airlines can take advantage of high demand in Indonesia so we are able to carry 400 tons monthly.
The cargoes were mostly General Cargos in addition to the Pharmaceuticals, Dangerous Goods, live Animals and others.
CT: During the Covid-19, does Ethiopian Airlines also do the same as other global airlines, that carry cargo using commercial flights, to keep the operation of the airlines?
Mrs. Azeb T. : Yes, we use passenger aircrafts for cargo only service and named 'Freighter'. We have reconfigured about 25 Passenger aircrafts into freighters to meet the global Cargo demand.
Ethiopian Cargo & Logistics Services have played a very important role during the pandemic by transporting medical supplies to Africa, Middle East, Asia, Europe and the Americas Freighter and Preighter aircraft.
Special in Indonesia represented by PT Global Sarana Angkasa, the hard work of Ethiopian Airlines Cargo Team in Indonesia, during the pandemic, can give support to Ethiopian Airlines Headquarter to get through the difficult times together.
CT: How many fleets does Ethiopian Airlines have, commercial flights and freighters?
Mrs. Azeb T. : Ethiopian is currently operating 124 aircrafts (fleets) including partner airlines. 12 aircraft are freighters (10 Boeing 777F and 2 Boeing 738SF) and the rest are passenger aircrafts.
CT: According to you, can Ethiopian Airlines still survive until the global economy goes back to normal (when the Covid-19 vaccine is finally found)?
Mrs. Azeb T. : Yes of course, I am so optimistic that we will get through the crisis and emerge stronger.
Challenges are not new to Ethiopian. We have survived tough times over the past 70 plus years and built a resilient airline with hardworking employees, diversified business model and adaptive management.
We are coping with the current crisis by leveraging our cargo and MRO (Maintenance Repair & Overhaul) businesses.