Sunday, 4 December 2022
Angkasa Pura II: Domestic Cargo Market Speed Up, Even Though The Pandemic is still Going on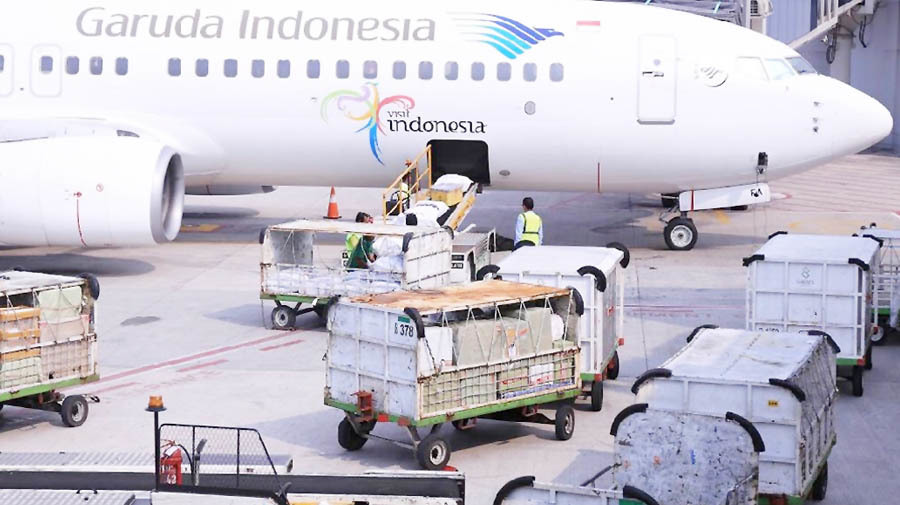 The Covid -19 doesn't sway the domestic cargo market at airports under PT. Angkasa Pura II (AP II) management that is still fervent. From 2020 - 2022, the load volume of domestic cargoes at AP II airports keeps soaring.
In 2020, the first time COVID-19 pandemic came to attack, the load volume of domestic cargoes at the 20 AP II airports was recorded cumulatively for 427,948 tons or rose by 5.27%, compared to 2019, in the normal condition or before the pandemic, was recorded for 406,494 tons.
Then in 2021, the load domestic cargo volume was 546,237 tons or rose by 27.64% compared to 2020.
Entering 2022, during January - October, the domestic cargo volume reached 461,102 tons or rose by 2.91% compared to January - October 2021. The volume in January - October 2022 has also gone beyond 2019 and 2020 (full year) realization.
The President Director of PT Angkasa Pura II, Muhammad Awaluddin explained the cargo volume increase is in line with e-commerce business growth in Indonesia. "Through close coordination with several stakeholders, AP II airports are able to accommodate the growing demand of cargo domestic transport in the middle of pandemic attack."
He continued, the domestic cargo volume increase is also to prove that domestic market really supports the recovery in the national aviation sector. "Meanwhile, the international cargoes are still slender, because all airlines have just opened their flight schedules from and to overseas," he said.
The domestic cargo types are general cargoes (Genco), cargoes without special handling, yet they still have to meet the flight safety and security requirements. "Majority of the general cargo is about 90 %, they are mostly: garmen, housewares, office supplies, sports equipment and others. This is parallel with the growth of e-commerce business during the pandemy," said Muhammad Awaluddin.
Ofthe genco transport total, 70% are from e-commerce items. Based on AP II analysis, garment products purchased from e-commerce dominate the domestic cargoes transport, then they are followed by spare parts or automotive accessories.
Based on the book of Financial Stability Study released by Bank Indonesia, during Q I/2022 e-commerce transaction rose, nominally, by 22.1% (yoy) and reached Rp227,8 trillions or rose by 39.9% (yoy) in volume that reached 1.74 million transactions.
This is similar to 2022 Lebaran Cargoes Transport, AP II airports that were hectic to handle the domestic cargo transports were Soekarno-Hatta International Airport (CGK), Kualanamu International Airport (KNO), and Supadio International Airport (PNK), Pontianak.
Besides the general cargo, there are also some special cargoes with 3% market of the cargo transports. Special cargoes are cargoes that need special handling such as: foodstuffs/fruits (PER), animals (LIVE) and others.
"Cargo transport at AP II airports is the most resilient sector in the middle of COVID-19. Even in the early pandemic, some airlines operated the commercial flights to carry the special handling cargoes at the AP II airports," said Awaluddin.
Operating the Freighters
To boost the cargo growth, AP II ensured the availability of cargo services, the management if logistic services and the provisions of integrated logistic systems by their subsidiary company, PT Angkasa Pura Kargo (APK) that operates at airports under AP II management.
The President Director of Angkasa Pura Kargo, Gautsil Madani said that APK has operated freighters to transport special cargoes: Boeing 737-300 and 737-400 .
"Angkasa Pura Kargo freighters commenced to operate on 22 September 2022 to transport domestic cargoes requests, specifically for Jakarta - Balikpapan – Jakarta routes with 15 tons capacity. In the future, the freighters will operate for other domestic routes," Gautsil Madani.
AP II is also planning to build cargo village at the Soekarno-Hatta International Airports that focuses on cargo delivery services from e-commerce. The establishment of cargo village also signs the cargo service transformation in Indonesia that also increase the competitiveness of Soekarno-Hatta International Airports both in global and regional levels.
KEPO
Besides the provision of freighters, to maximize the delivery services by air to all regions in Indoesia, APK provides The Most Express Delivery (KEPO - Kilat Paling Oke).
KEPO is a passengers' overweight baggage service, so that it really helps the passengers with cheaper costs than the tariffs set by the airlines.
According to APK's official notice, the opening of delivery service outlets is an effort to overcome the delivery troubles of entrepreneurs' or end customers' packages as there is no integrated service so the conformity of on time package arriva is still troublesome.
KEPO's first outlet is located at the 3rd floor parking lot of Terminal 3 at Soekarno-Hatta Airport, Tangerang, Banten. The operation is from 08.30 until 17.00 Local Time (the schedule can be changed anytime).
Customers can access the tariffs information on TERKA application that can be downloaded on Appstore and Playstore, and the 24 hour contact center at 081280602221. Next, KEPO outlet will be opened around Soekarno-Hatta airport.
TERKA
This application is to ease the end users of cargo services to get information about cargo and logistics.
The application is launched in 2018 and has some superior features like: Directory, Cargo Services, Personal Services, Facility Information, and Flight Information.
After the application launching, hope, the end users of cargo services can easily track the status of their packages/cargoes, warehouse locations as well as the operators in Airport Cargo Terminal area. TERKA application, in its development, aill be integrated with Baggage Solution services and Indonesian Airport application, that had been launched by AP II initially.(mar, various source)