Friday, 28 September 2018
Air Cargo Stakeholders are Optimistic Bali will Become The World Best Hub of Transshipment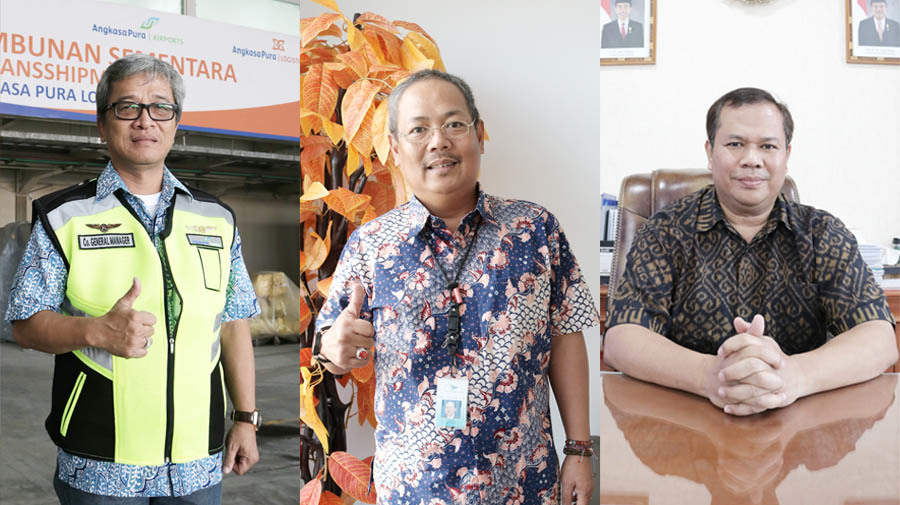 from left: Sigit Herdiyanto, Joseph Adrian Saul, and Syarif Hidayat (photo ct)

Transshipment is a moving activity of goods from one location to another location using a hub station to conduct the whole activities. Transshipment is set up when there is a stacking of goods in a country of origin that will be transported, but the available or the capacity of a transportation is limited, so that it causes late delivery and high cost of transportation that consumers should bear.
Sigit Herdiyanto, Co. General Manager of Angkasa Pura 1, I Gusti Ngurah Rai  Airport branch said: "Special for the air transportation, Indonesia who has some international airports haven't used the service of air transshipment well like other countries, even with the neighbor countries in the Southeast Asia".
Nevertheless, the international airports are airports where air cargoes that have big profits potency stopover. Moreover, as the biggest archipelago country in the world, Indonesia is very potential to do the air transshipment activities.
Recently, the flag carrier, Garuda Indonesia and PT. Angkasa Pura Logistik (APLog), a subsidiary company of PT. Angkasa Pura I (Persero) that run its businesses in logistic and transportation, work together for air transshipment services at I Gusti Ngurah Rai International Airport (DPS) Bali.

Joseph Adrian Saul, General Manager Garuda Indonesia of Bali said to Cargo Times: "We saw the air transshipment cargo in Singapore could accommodate 1.8 million tons of goods in 2015.Meanwhile, in Bangkok was 1.2 million tons. However, in Indonesia is zero.  We hope through this joint work between Angkasa Pura Logistik and Garuda Indonesia, we will make Bali as the best transshipment hub in the world."

He explained, "There are some factors that becomes advantages of Ngurah Rai as the potential hub station, like: 40  international airplanes, the planes only carry passengers as there are no industries (manufactures) in Bali, so that the traffics of cargoes are very few, except perishable cargoes like live fish, fresh fish, and fruits."
Besides the numbers of international airplanes with numerous flight frequencies, said Joseph, another determining factor of an airport to be a hub station is the types of airplanes. 

The type of airplanes used is the wide-body airplanes, like Airbus series of A300, A330, A340, A350, A380, and Boeing 747, 767, and 777, which has a large enough cargo compartment capacity.
In the same event, R. Syarif Hidayat, the Head of Custom Office for Bali, West Nusa Tenggara and East Nusa Tenggara said, "We have prepared reliable Regulation and Infrastructures for the Transshipment. By our advantage points in Indonesia, especially in 'Pulau Dewata' will become the best hub transshipment in the world." He continued that Directorate  General of Customs (The Ministry of Finance) has arranged regulation clearly for this transshipment as Indonesia is a potential country for air transshipment development as the origin country, destination country, or transit country.
Syarif Hidayat explained there are some advantages with air transshipment, like: - lower cost of cargo deliveries by air, - as an alternative when an airport is in the peak season, and – assist the goods deliveries from a region where they don't use a ship as the goods transportation.

Moreover, the main potencies for air transshipment products are: 1). International freight forwarding company in other countries, 2). Domestic cargo agent, Direct customers in regions that don't have or have limited access of the International flight, 3). Airlines who apply Special Price Agreement (SPA) with other airlines, 4). Late production from manufacture industries that need air transportation in considerable numbers, and, 5). Cargo projects with deadline  that need air transportation to transport goods and materials.