Saturday, 22 June 2019
Garuda's Apt Strategies to Improve and Strengthen Their Existence in The National Logistic Industry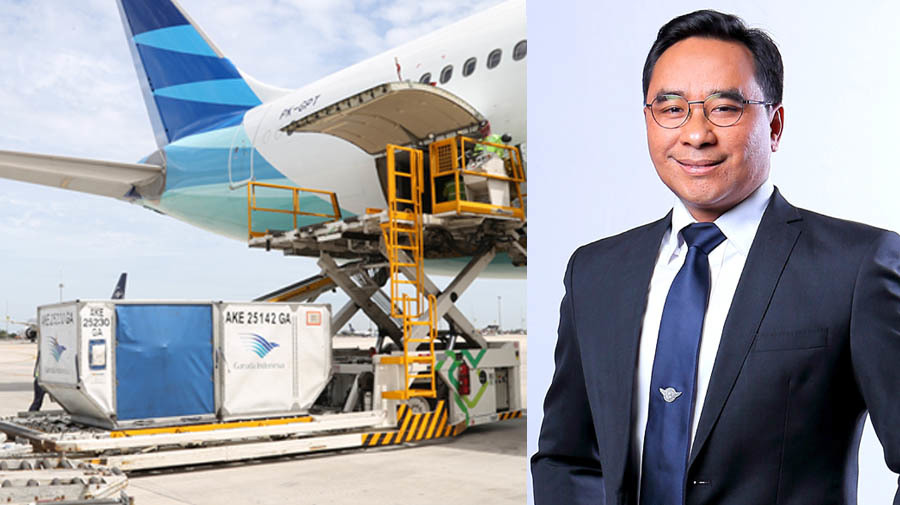 (right) Mohammad Iqbal (doc.ga)

The challenges faced by Garuda Indonesia (Garuda) so far is to Improve Load Capacity, e-Commerce Goods Delivery Spring and the right Technology Application. "Therefore, Garuda Indonesia Cargo has some strategies that have been set to develop the company's business and their business. All have been concepted well," said Mohammad Iqbal, the Director of Cargo and Business Development of PT. Garuda Indonesia (Persero) Tbk..
First, Go Freighter. We operate freighter (cargo freighter service). One unit has been available. There'll be another one unit. The procurement has been carried out in January. There'll be 4 units to be operated. It's important to provide cargo freighters as an important component in developing business. We do this due to people's needs fast and efficient delivery, especially high demands of e-Commerce's goods delivery.
"Second, Go Logistics. Garuda will build logistic infrastructures in the warehouses inside the airports with Cargo Village concept. Cargo Village was designed as the company's wish to improve productivity. So, what we designed can be connected to the freighters using Garbarata (Connecting Bridge). We plan to build them in Cengkareng, Bali and Makassar," he said.
In the future, he continued, Garuda's management would like to build a modern Logistics Centers, by making up collaboration with the state-owned airport operators, PT Angkasa Pura I and II. We will build  logistics centers in Cengkareng (CGK), Makassar (UPG) and Denpasar (DPS). According to the plan, there'll be more airports to be built. This effort is done to make air cargo costs cheaper and faster. 
Currently, Garuda Indonesia Cargo have operated their modern cargo center themselves for export/import warehouses, and rush handling (to manage rush delivery).
"Third, Go-Express. With 77 percent market, our company will give courier or package delivery services. Garuda don't stand alone as they have partnered with a well-known ride-hailing company in Indonesia." 
Fourth, Go-Excellent. The development and use of new technology, which Garuda will deliver goods using drone technology or Unmanned Aerial Vehicle (UAV). So, in the future, the delivery will be faster using air transportation. 
Now, e-Commerce goods delivery has used air transportation. So, it's direct from airport to home (port to door). We are still using on road transportation (door to door, city to door).
"Garuda management also prepare cargo application for customers to monitor the movement of their packages through its application "TAU BERES". This is the first application of Air Cargo in Indonesia that connect marketplace, logistics, and customers," he explained.
As known, the air cargo potency in Indonesia is very big. Moreover, e-Commerce is booming rapidly so that it will give positive effect to the company. 
The growth of cargoes in 2018 reached 400,000 tons; Domestic cargoes still held 60 per cent, meanwhile the International cargoes held 40 per cent. The figures increased 5 per cent compared with 2017's.  The increase happened in Q4 in 2018 with the leap by 20 per cent. If we detail it, Marine Product is still dominant for air cargo transportation.
"For example, Marine Product, from Makassar (South Sulawesi), Manado (North Sulawesi) or Ambon (Maluku) as the Hubs will collect the marine products from fish producer islands; then, they will be brought to export markets using Airbus A330 and Boeing 737-800 that can fly direct to China (Guangzhou and Shenzhen), Hong Kong or Japan (Tokyo)," Iqbal said.
Consistent with the new Vision, "Menghubungkan daerah-daerah di Indonesia 24 jam lewat jalur Kargo dan Logistik Nasional" (Connecting all regions in Indonesia for 24 hours via the National Cargo and  Logistics), later, by using drone, Garuda will have capability to deliver goods (packages) door-to-door that may reach all regions in 24 hours, especially to connect remote areas that have limited airports, like in Maluku, Papua and Sulawesi - prosperous marine product regions, he said.
"By using drones, it makes Garuda as a pioneer of logistics distribution that use drones in  Indonesia, especially to supporting the National Logistics Systems (SISLOGNAS) through connectivity optimalization between economic activities hubs and regions in Indonesia as well as to realize the vision of "Tol Udara" (Air Toll) as envisioned by the government," Iqbal closed.